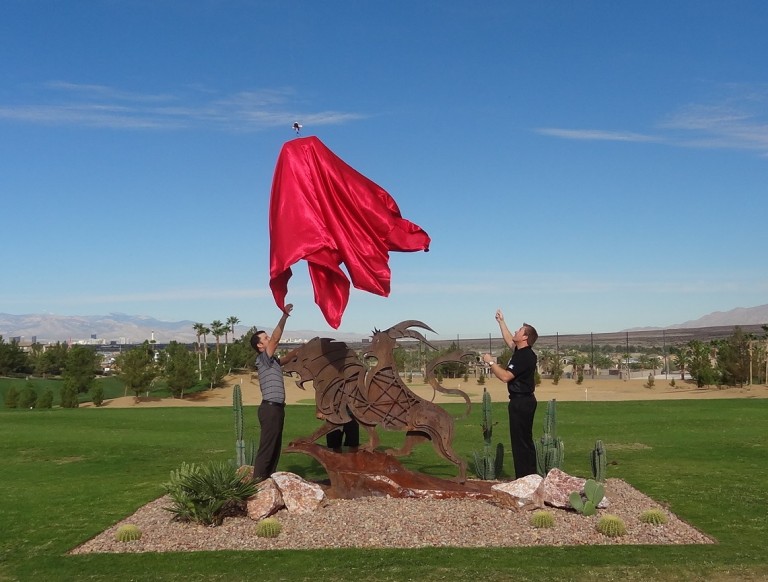 The Chimera Golf Club had just completed a successful over seed and Tom Burke, CEO/Owner, is wasting no time making Chimera Golf Club one of the most notable golf clubs in Southern Nevada. On October 17, 2015, Chimera held its Grand Opening Outing and just three days later, they held their ribbon cutting event attended by the Henderson Chamber of Commerce.
The Grand Opening Outing had two shotgun starts. One at 7:00 a.m. and another at 1:30 p.m. The Vegas Valley had seen rain most of the week, and the weather threatened the first shotgun. Fortunately, no rain fell and the sky was filled with a mixture of sun and clouds that added to the already spectacular scenery.
The participants were treated to more than great golf. Numerous hole sponsors were out on the golf course. These sponsors included Masterpiece Cuisine, who gave out breakfast burritos in the morning and pulled pork tacos in the afternoon. State Farm Insurance agent, Chris Baden, had a tent with numerous gifts and a contest to win a wide-screen television. The Pabst Blue Ribbon Beer Girl was giving out cans of "Not Your Father's Root Beer." Safe Nest Nonprofit was on the course accepting donations and offering prizes for best shots on a par three. Bank of George representatives had a drive-the-green contest you just couldn't lose. Meanwhile, Dobson Team Realty had a closest-to-the-hole contest and a ton of smiles. Golfers also enjoyed free hot dogs at the turn from the outdoor bar.
Between shotguns, Chimera Golf Club was visited by the Premier Showgirls, a full-service talent agency specializing in traditional Las Vegas Showgirls. Many golfers had their pictures taken with the beautiful girls, who wore gorgeous Halloween-themed costumes and headpieces in front of the Chimera statue.
With the golf course in great shape, delicious food, plenty to drink, beautiful weather and beautiful girls, it's no surprise that everyone who participated in the Grand Opening had a wonderful time.
Just three days later on October 20, 2015, it was time for Chimera's ribbon cutting ceremony, welcoming Chimera as a new Henderson, Nevada business. This event was held at 9:00 a.m. on one of the first cool Southern Nevada mornings of the season. It started off with guests served pastries, fruits, and coffee from Boulder City's own roaster, Colorado River Coffee Roasters. Attending the ribbon cutting were residents of Tuscany Village, Ambassadors of the Henderson Chamber of Commerce, a representative from US Congressman Joe Heck's office, Henderson Councilwoman Gerri Schroder and City of Henderson Mayor Andy Hafen. Success City Online was there to take pictures of the event and post it on social media for us.
After breakfast, the attendees relocated to the driving range where they were met with a large object covered by a bright red sheet. As the group watched, a drone flew in, hooked the sheet and flew away unveiling the Chimera statue (created by renowned artist Ramon Sanchez) to everyone's delight. Next Tom Burke, members of his staff, Chamber Ambassadors, Gerri Schroder and Mayor Hafen cut the ribbon for the bystanders and cameras.
Next on Chimera Golf Club's agenda is the Inaugural HCC Foundation Golf Tournament to benefit the HCC Foundation and Veterans Treatment Court of Nevada. For more information and to sign up contact the Chimera Golf Club at 702 951 1500 or go to the Henderson Chamber of Commerce website.