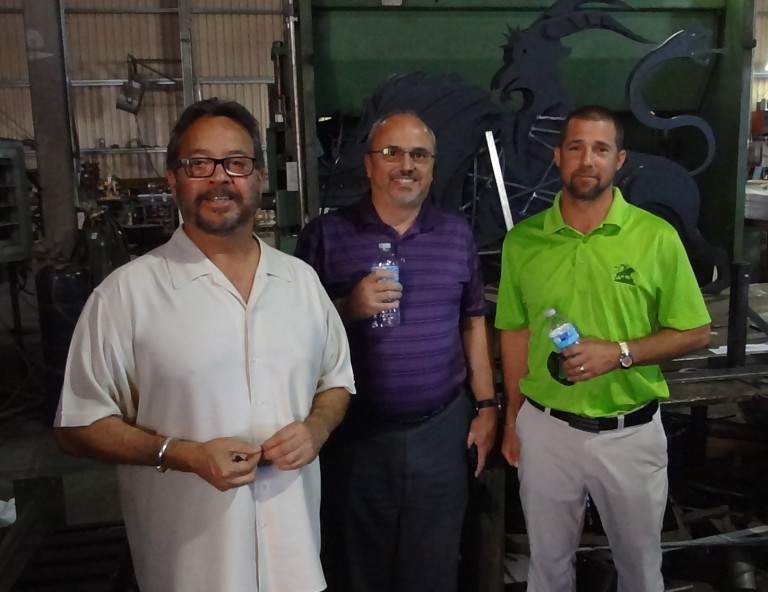 Chimera Golf Club at Tuscany has retained local artist Ramon Sanchez to construct a steel sculpture of a Chimera for its golf course in Henderson, Nevada. Mr. Sanchez is the artist known for the magnificent steel sculptures that grace the valley highways and are seen at the Springs Preserve. Mr. Sanchez explained during a recent tour of his facility that he puts a bit of spirituality into all of his work. Each piece has a unique story.
A Chimera pronounced "ki-meer-uh" is a mythological, fire-breathing monster with the body and head of a lion, a goat head on its back and a serpent for a tail. The symbolism of the Chimera is very special as it represents infinite imagination, passion, and creativity, while it also symbolizes one's pursuit of what seems unattainable or elusive ("to chase Chimeras"). For the Chimera Golf Club, it means striving for continuous improvement to the delight of guests. The addition of the steel sculpture will be one of many planned improvements to the golf course and the clubhouse.
Besides sculpting in steel, Ramon Sanchez, is the owner of P & S Metals & Supply Co. in Las Vegas, Nevada. His company has been supplying quality steel products in Las Vegas since 1978. They are a Clark County Certified Fabricator with a complete metal processing shop.
Mr. Sanchez has been creating steel sculptures for decades. He refers to his work as "scrap iron art". The grounds of their office buildings are decorated with numerous examples of his artwork, including plants, contemporary pieces and a scorpion larger than a pick-up truck. The interior of his main building also has beautiful examples of his work. Even the exposed ductwork on the ceilings looks like art.
Anyone who has driven Interstate 15 between Tropicana Avenue and Blue Diamond has seen his steel sculptures enhancing the view for travelers. Some people say the landscaping accents the sculptures. The sculptures range in height from nine to eleven feet tall and depict burros, horses, bighorn sheep and coyotes. Constructed of multiple layers of sheet metal, the sculptures have a three-dimensional look that blends with the natural backdrop.
Soon the Chimera sculpture will be completed and ready to make its home at the Chimera Golf Club. It will be strategically located near the first tee box. Guests will have the opportunity to experience a beautiful piece of art by Ramon Sanchez. Before a great round of golf, guests can have their pictures taken as they roar with the Chimera.