Whether planning a 10-year anniversary party or hosting a diamond wedding anniversary party for your parents, you want to honor the special couple and their love for each other. Anniversary parties are a great way to celebrate their special day, but also honor all their family and friends. While throwing an anniversary party may seem overwhelming, here are the top 10 best ideas for an anniversary party to get you started. These ideas include renewing your wedding vows, planning a destination anniversary party, and tips on throwing a party at a restaurant.
Plan a Destination Anniversary Party
For a milestone wedding anniversary, consider inviting your closest friends and family members on a trip to celebrate with you. Choose a destination getaway that fits your lifestyle. If you and your husband are outdoorsy kinds of people, think about getting a hotel or a cabin near the water. Alternatively, you could return to the city where you went on your honeymoon. Try to plan a number of activities, such as icebreaker cocktail parties or hiking mountain trails. Ask one of your friends for help to plan part one of the theme nights. Hosting a dancing night, with music from the 80s, if you've been married 30 years would be really fun and get people moving and interacting. Another theme is a campfire and s'mores night on the beach, where guests can toast the couple and sing songs.
Renew Your Wedding Vows
Lately, more couples are choosing to renew their wedding vows as part of their anniversary celebration. Typically, this is done for a silver or diamond wedding anniversary but there is no rule saying you can't do it for other anniversaries. Choosing to renew your vows is often a personal decision for you and your partner. It may be because of a milestone, or it may because one of you just successfully battled an illness. Alternatively, maybe you want more control in planning your wedding vows ceremony and anniversary celebration than you had in planning your wedding.

This is your chance to speak to each other from the heart. You can select the readings and the passages. You may choose to have parts of it mimic your wedding, or you may prefer it be different but still symbolic. Since a vow ceremony isn't religious or legally binding, anyone can officiate. You can select a close friend and even host the ceremony outdoors.
Try a Thrill-Seeking Adventure Together
If you and your spouse feel like you're stuck in a rut, this might be the perfect time to try a new adrenaline pumping activity together. You don't need to travel all over the world to have a little fun, thrill, and adventure in your life. To plan your wedding anniversary celebration, first decide if you want it to be a romantic date or if you want to celebrate with other daring friends. Some great ideas include taking a hot air balloon ride or parasailing through the mountains. Both of these activities allow you and your spouse to explore the skyline up close. A hot air balloon ride company often lets you add a romantic champagne toast to honor the occasion, and you can add guests to accompany you.
Choose a Special Venue or Restaurant
Whether you are throwing an intimate backyard party or a black tie affair, you'll want to select the proper party venue. If the couple is casual and laid back, throwing a low-key backyard party might be preferred. However, if they hang out with lots of friends and both of them have large families, you may want to host this special occasion at a nearby venue or favorite restaurant. Choose one that has meaning to the couple. It could be the restaurant they got engaged at or the venue they had their reception at. Just tailor it to the current guest list, and then you're ready to plan the party.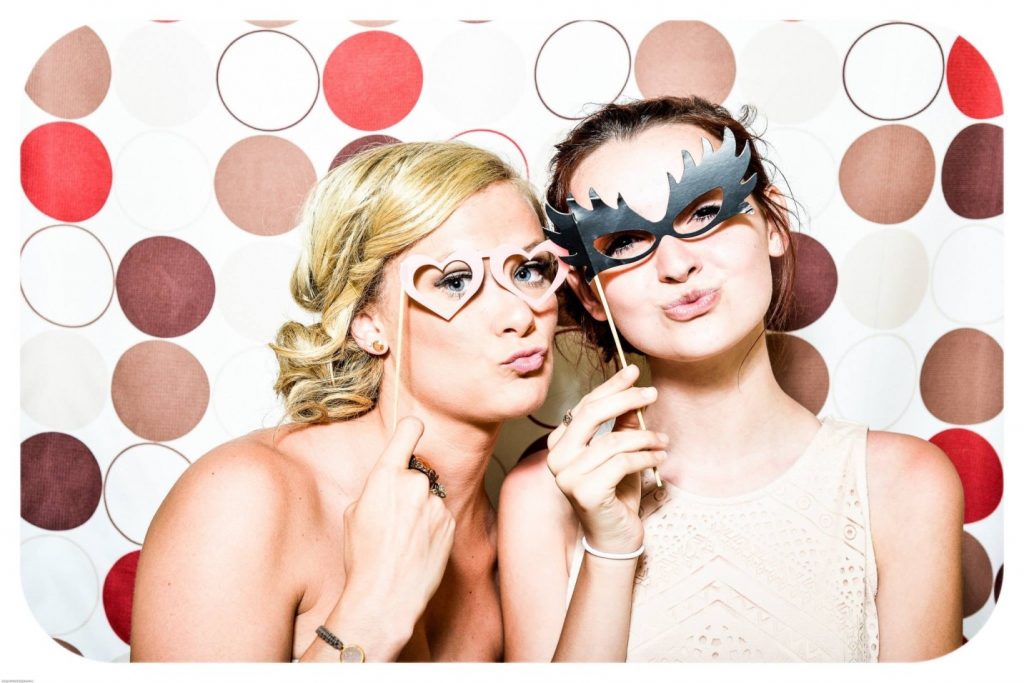 Incorporate Traditional Anniversary Themes into the Party
Whether you want to celebrate your first anniversary or your sibling's 25th wedding anniversary, here are some ideas to incorporate traditions into the special occasion. Since your first anniversary is celebrated with paper, you could decorate with paper lantern centerpieces and sprinkle paper rose petals around. Wood symbolize the 5th wedding anniversary so you can use wooden bowls or vases to hold flower arrangements. Alternatively, you can also arrange tea light candles and smaller arrangements along a cedar plank for a rustic feel. Celebrate a decade of love and marriage with simple and rustic charm. Simple tin pails are perfect paired with light pink and blue flowers with a sprig of baby's breath. You can make it a picnic theme with checkered tablecloths and colorful blooms, if that's more your style.
The two biggest wedding anniversary parties are the 25th and the 50th. Silver symbolize the 25th anniversary and gold represents the 50th anniversary. A silver anniversary often features a combination of elegant and modern, such as a beautiful silver bowl, with floating candles in it as a centerpiece. Another great idea is using the original silver-wrapped Hershey's Kisses as the base for your seat cards. They'll be a tasty treat for your guests to enjoy. It's worth celebrating in style if you and your spouse make it to your 50th golden anniversary. Consider using a gold birdcage and filling it with photos and memories from your marriage. Use some gold tree branches as a statement piece to highlight your centerpieces.
Use Aspects from the Couple's Wedding
No matter if the couple or a close friend is planning the anniversary party; it's a special touch to include fun and sentimental memories of their wedding day. Wedding photos are a simple and fun aspect to use. You can put different wedding photos in frames and use them as table numbers for the party guests. You could also make a collage with them so everyone can see them as soon as they arrive. If you wish, you can even include pivotal memories like when they got engaged or photos from their honeymoon trip as well. In addition, if you are planning to have a DJ and dancing, consider requesting to have the couple's first dance song played. They'll appreciate the throwback to their wedding.
Family Involvement Builds Memories
Get the couple's family involved in making this anniversary party special and memorable. One great idea is to have the couple's children make a video presentation of the couple throughout the years. They can include photos of them dating, wedding photos, and family pictures with all the children. Choose a few songs that the couple love and fit the theme of the photos. Another option is to interview siblings, friends, and children of the couple about what they love about the anniversary couple or significant memories with them. You can play either of these options at the party.
Unique Food and Drink Ideas for the Party
When planning the menu for the upcoming anniversary party, decide if you want it to be a casual afternoon event, full sit-down romantic dinner, or a cocktail party with drinks and appetizers. This will assist you in adapting your menu options. It's beneficial to you to get all of these catered so you can actually enjoy yourself at the party. If you want a casual affair, consider choosing an array of finger foods and cutting them in to a "50," if it's a diamond anniversary event. For example, you could arrange cheese cubes that are cut into 5's and 0's on a platter or slice finger sandwiches into numbers. To complete this great idea, you could decorate a cupcake tree with "50," decorations.
If you're hosting a romantic dinner, you'll want a variety of dishes, often in a buffet format. Consider making it a themed dinner, whether the dishes are mainly Italian, Mexican, or Chinese. If the couple has a favorite dish, ask the chef to re-create it for them. For the piece of resistance, arrange to have a cake made similar to their wedding cake but with a gorgeous "50th " topper. If the couple prefers a cocktail party, then make sure the bartender has some signature drinks in addition to his beer and wine. Consider a punch or maybe a chocolate martini using those Hershey Kisses, in honor of a 25th anniversary. Serve heavier appetizers, such as BBQ glazed meatballs, miniature spinach pies, and crudités.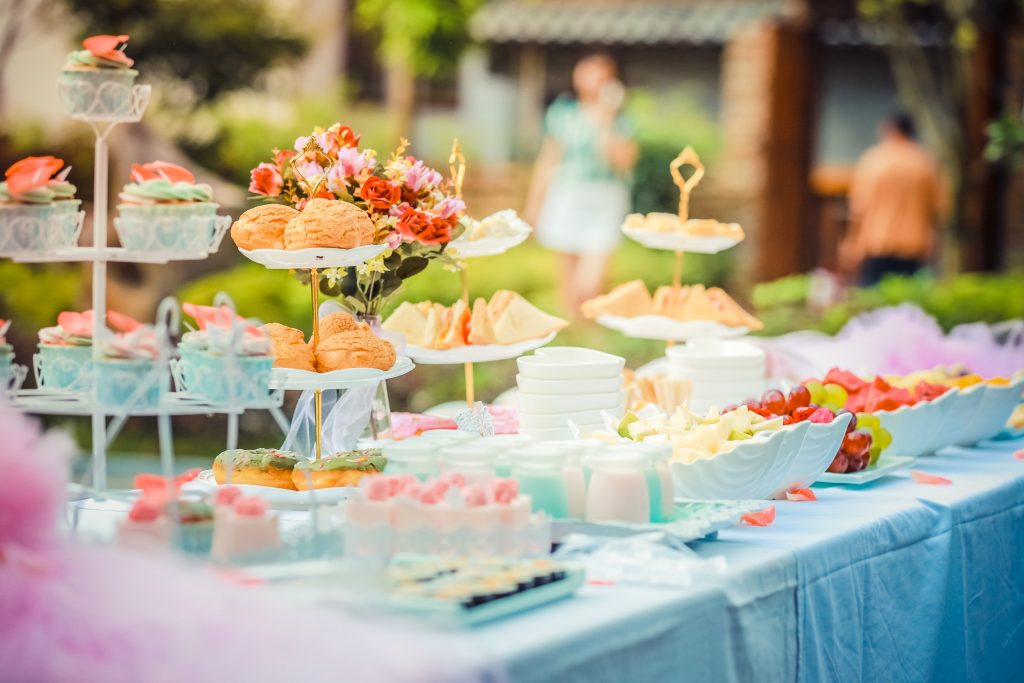 Anniversary Games to Play
Are you looking for some icebreakers as a way for your party guests to interact? In that case, plan a few anniversary-themed games to play. Trivia type games work well. There is a game that couples play at showers and anniversary parties that's become popular. The couple sits in the middle of the room, facing back to back so they can't see each other. Hand them each a "wife," cardboard paddle and a husband one. A friend will ask a series of questions, including: who's the better cook, who apologizes first after a first, or who takes care of the dog? After the guests have answered them, the couple answers them with their pre-marked paddles, which is entertaining to see how they respond.
Wedding Anniversary Gift Ideas
When selecting a wedding anniversary gift for a party, consider both your relationship to the couple and how many years they've been married. If you've been close to the wife or the husband since you were young, consider creating a scrapbook or shadow box of all of the early memories of the couple. If the couple is a close family member, you may wish to splurge for a gift certificate to a local bed and breakfast so they can enjoy a private anniversary trip. If the recipient is a colleague or a friend, bring them a high-quality bottle of wine and a pair of engraved wine glasses. You can personalize it with their names or" his and hers." If you're planning to buy year-specific gifts, then think about some of these fun ideas. The 5th anniversary is symbolized by wood so you could buy a custom wooden key ring holder, with spots with everyone's keys. With the 10th anniversary being tin, you could opt for a cute rustic picnic set, complete with a tin citronella candle to keep the bugs away.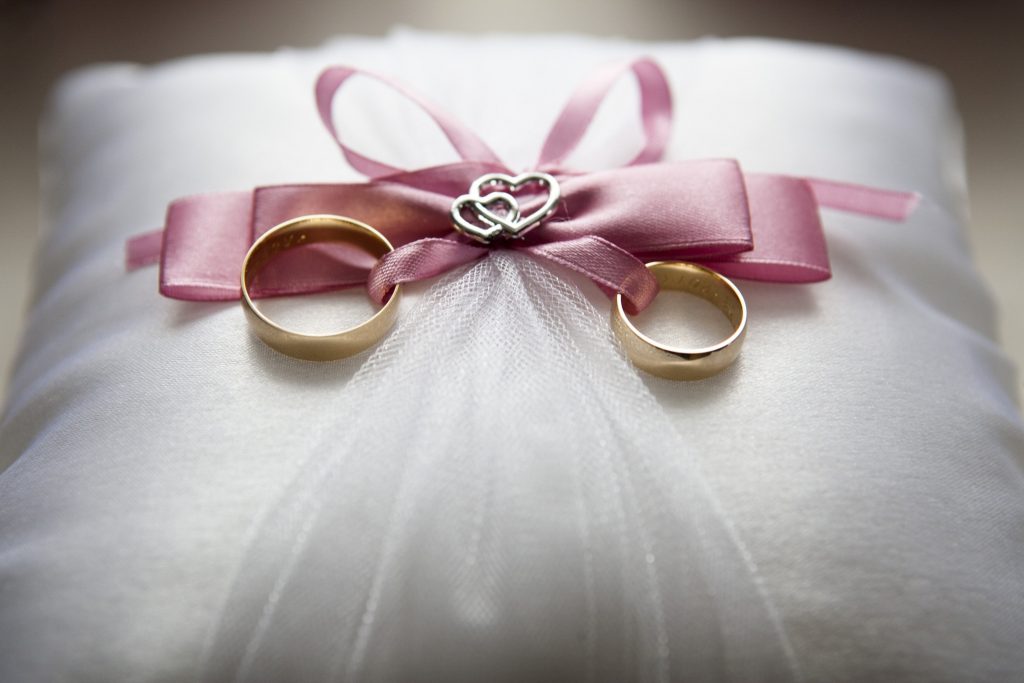 Make your anniversary a day to remember by celebrating the love that you and your partner share. Whether you want a romantic dinner and dancing with lots of friends and family or an intimate brunch with just a few close family members, we can plan this special event for you. Let the Pavilion at the Chimera Golf Club host and plan this anniversary party with you.