Have you heard about footgolf courses in Las Vegas? If you're in Las Vegas and want to play a fun sport that combines part-golf and part-soccer, then you'll definitely want to check out footgolf. It's played on a golf course and it uses a standard soccer ball. The pace of play takes about two hours if you play the full 18-holes or it's about 90 minutes for the front- or back-9. You'll also find that footgolf is easy to play – get balls in the holes in the least number of kicks. It's also ideal for kids of all ages.
Here's more information on foot golf and where to play footgolf in Las Vegas.
What is Footgolf?
Footgolf is one of the coolest family-friendly sports that combines both golf and soccer. It's a highly addictive game that's easy to learn. It's played on a golf course but uses soccer balls instead of golf balls. The balls are size no. 5 and are kicked into 21-inch diameter holes so they're much larger than a standard golfing hole. When you're ready to play at a golf course, you would book a tee time the same way you would if you were playing regular golf. The good news is you don't have to be a star player or professional athlete either.
Prices vary depending on the course you are visiting. You'll find that most courses let you play the front- or back-9 or you can play the full 18 holes. Playing 9-holes might take you about 90-minutes or less. If you play the full 18-holes, it can take about 2 hours and up to 2.5 hours. As you're outside enjoying the scenery, footgolf is a great way to enjoy a leisurely recreational sport, stay active and kick it around a little.
Footgolf is played all over the world and it's regulated by FIFG, the Federation for International Footgolf. The governing body is the AFGL or American Footgolf League. This is the link for the American Footgolf Federation that includes the official rules. Click here for the online FIFG rulebook or download the PDF for the FIFG rulebook here.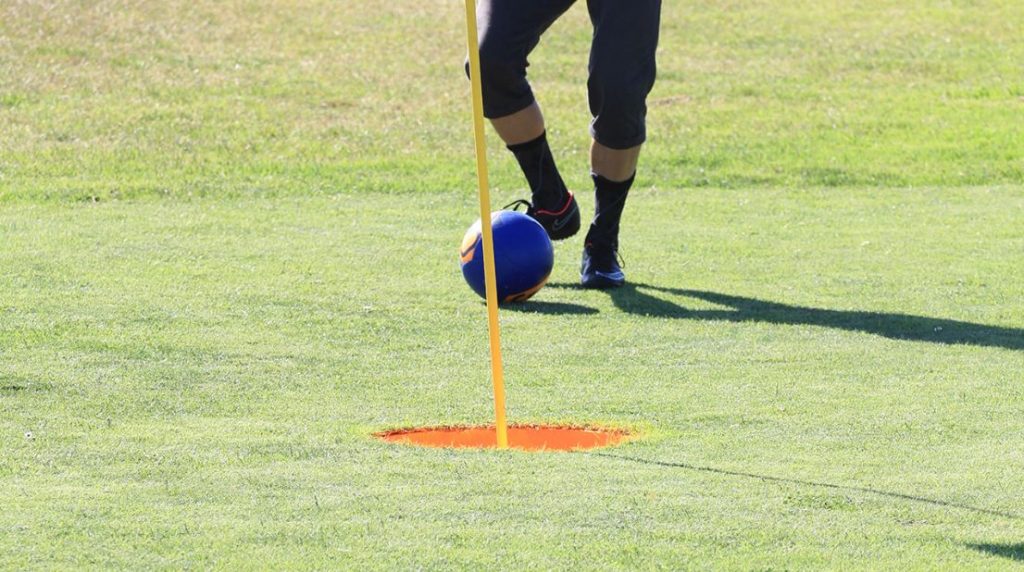 What are the Footgolf Rules?
The goal is to kick balls in the holes with the lowest amount of kicks. Players kick-off (instead of teeing off) on par 3s, 4s and 5s to change the level of difficulty. Players can keep track of their scores with a scorecard they carry during gameplay. Rules are similar to golf and a referee is used to supervise gameplay. There's no special equipment required. Some players use their own balls as long as they are regulation-sized #5 balls. When playing, there are a few basic rules to ensure consistent gameplay and good sportsmanlike character.
Rules include:
Keep your scorecard with you as you await your turn.
Try to keep your kicks from interfering with other players. You don't want to trip them in any way.
Your ball should be easy for you to readily identify.
You have to kick with one single kick. When kicking the ball, your foot should be separate and away from the ball before you kick it. It can't be pushed in any way from the top of your foot or the bottom of your foot.
Kick from up to two meters directly behind the indicated tee marker. Your ball has to come to a complete stop for play.
Do not try to stop balls if the wind is pushing them. They should be played exactly where they lie.
Balls cannot be moved if jammed between two objects. However, the spot can be marked and the ball lifted if it obstructs another player, blocks their kick or their ball.
Footgolf Attire and Dress Code
If you don't have the footgolf attire, most courses will let you wear regular golf gear. These are the dress code requirements:
Wear attire that consists of a flat golf hat or driver's cap, long argyle socks and a polo shirt with a collar.
Players can wear khaki shorts or slacks. Women can wear shorts or skirts if they prefer.
Shoes can be indoor soccer shoes but no soccer cleats are allowed. Standard tennis shoes are also fine.
Where to Play Footgolf in Las Vegas
If you're ready to play a game of footgolf, you'll find that different golf courses include footgolf as a recreational sport at their golf course.
These include: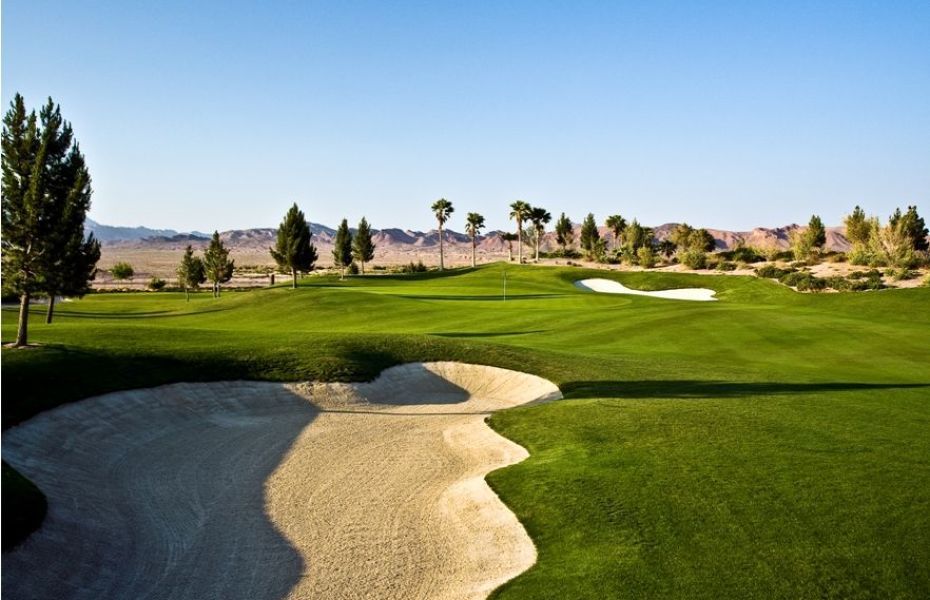 One of the "must play" footgolf and regular golf courses in Las Vegas is at Chimera Golf Club. It opened in July of 2003 and is minutes away from the Las Vegas Strip. This golf course includes 68 different white-sand bunkers and it has plenty of water hazards mixed in. Chimera offers four different sets of tees and it's accessible for new and beginning golfers and will also push the limits of low handicappers. Chimera has golf if you want to play the front-9, back-9 or full 18-holes, footgolf and golfboards.
Chimera has a massive 31,000 square foot space called Old World Tuscan Village. It includes a golf retail store if you would like to purchase footgolf and regular golf clothing and golf accessories. Footgolf players and golfers can find all kinds of name-brand merchandise and professional sporting equipment. Brands include FootJoy, Titleist, Ashworth, Marbas, EP Pro and more.
Visiting from out of town? Chimera provides several different types of "Stay and Play" golf packages. Stay at the Westin Lake Las Vegas Resort and Spa or the Hilton Lake Las Vegas Resort and Spa. The location also features a spacious pub area and restaurant. Head to Slice 19 for a bite to eat and meet up after footgolf. Nearby, there are meeting and banquet facilities. The 4,000 square-foot outdoor patio showcases the sweeping mountain views, the golf course and the Las Vegas Strip. If you're hosting a group event, the property includes ample space for meetings, parties, receptions and weddings.
Location: 901 Olivia Pkwy, Henderson, NV 89011 (702) 951-1500
Course Designer: Ted Robinson, Jr.
Specs: 6,906 yards, Public Course, Reviews: 4.5 out of 5 and 95.5% Rating on Golf Advisor
Best of Lists According to Golf Advisor: Top Courses in Nevada 2015, 2016 and 2018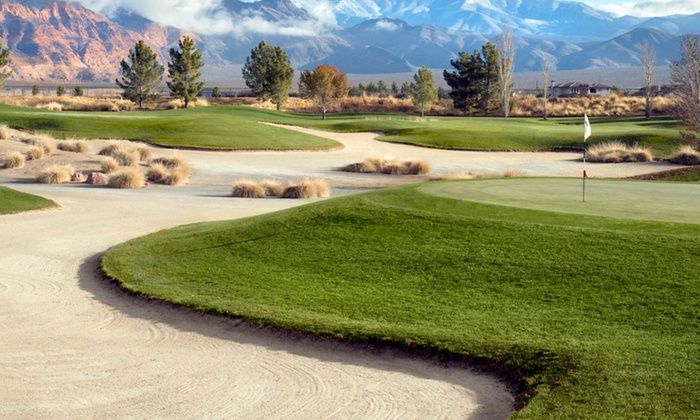 If you're interested in playing footgolf on a beautiful golf course with pristine views, then head to Mountain Falls Golf Course. You'll find there's plenty of time for footgolf and regular golf at this perfectly-manicured course. Sand traps use real sand and the fairways are green and lush. Reviewers note that the staff are friendly, helpful and always inviting.
The location of Mountain Falls Golf Club is only about 45-minutes from Sin City. Footgolfers and golfers alike will find that the new pro shop offers plenty of clothing options and golf equipment. The meeting and banquet space can accommodate up to 200 people if you're planning a wedding, reception or other type of event. The space can also host private parties, graduations and meetings. The Grill Room at Mountain Falls with its robust menu provides gorgeous views of the 10th tee. Sit in the outdoor patio area as you compare scorecards after gameplay.
Location: 5001 Clubhouse Drive, Pahrump, Nevada 89061 (775) 537-6553
Course Designers: Cal Olson and Nicklaus design
Specs: 7,082 yards, Public Course, Reviews: 4.5 out of 5 and 98.1% Rating on Golf Advisor
Best of Lists According to Golf Advisor: Top Courses in Nevada 2014 to 2018, Top 25 Friendliest Courses for 2015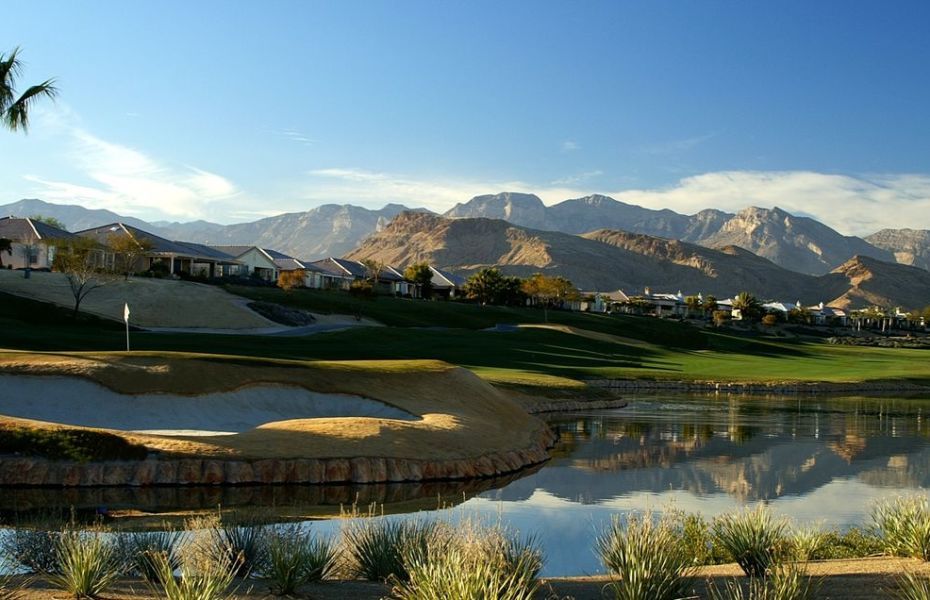 If you visit the Siena Golf Club, you'll find that the water views and lush greens make it a tranquil desert oasis. The location near Las Vegas includes picture-perfect Spring mountain views in the backdrop. There are also six different bodies of water which include Lake Siena. It's so relaxing, you might forget all about footgolf or golf as you soak in the scenery. With relaxing waterfalls and Italian-inspired architecture, it's the perfect location to meet with work colleagues or hang out with friends.
Siena Golf Club also includes a pro shop where you can buy all kinds of footgolf and golf gear. The course is open year-round and they offer all kinds of golf packages if you're visiting from out of town or up for a tournament. Space is available for parties, weddings and receptions as well as meetings and conferences.
Location: 10575 Siena Monte Avenue, Las Vegas, NV 89135 (702) 341-9200
Course Designers: Lee Schmidt and Brian Curley
Specs: 6,843 yards, Public Course, Reviews: 3.8 out of 5 and 76.5% Rating on Golf Advisor
ENTER THE SWING KING $100,000 "HOLE IN ONE" GOLF CONTEST
Have you ever hit a hole in one? Want to try? You can sign up now for the Hole in One Contest and win cash prizes as high as $100,000? If you've heard about the HIO Contest or saw a Swing King Contest ad, here's what you need to know. Maybe you'll be the next Swing King and have a featured video. Now's your chance to find out. The "Hole in One" contest is ongoing and powered by the "Swing King" system. See the Official Terms and Conditions here.
SIGN UP NOW FOR YOUR CHANCE TO WIN UP TO $100,000
Your entry into the Hole in One (HIO) contest makes you eligible for the following prizes:
$5 entry fee for up to a $10,000 prize
$10 entry fee for up to a $20,000 prize
$20 entry fee for up to a $50,000 prize
$40 entry fee for up to a $100,000 prize
90 winners have already won cash prizes. See videos of winners and their winning shots here.
SIGN UP FOR THE SWING KING CONTEST
The contest is offered at Chimera Golf Course and the rules are easy. Once you book a tee time through the Chimera Golf Course website, you will be redirected to a link for Swing Kings where you can enter the contest. Good luck!
ABOUT CHIMERA GOLF COURSE
Chimera Golf Course is located in Henderson, Nevada. Designed by Ted Robinson, Jr. in 2003, it sits on 6,906 yards. With forgiving fairways in a playable desert landscape, it offers challenges from any tee. Players can enjoy other activities that include footgolf, golfboards and a bite to eat at Slice 19. With unparalleled views of the Las Vegas Strip, book your next tee time at Chimera Golf Club today!