Tiger Woods won the 2019 Masters golf tournament, making it his fifth Masters title win. Woods now has 15 major wins and trails Jack Nicklaus by 3. The win is also the first major win for Tiger Woods since 2008's U.S. Open and he took home a purse of $2 million.
This article provides:
2019 Masters Final Round Highlights
The Top 5 Moments at Augusta
The Masters 2019 Payout
How Tiger Woods Scored at Each Hole
The Degrees of Difficulty at the Masters
Let's take a look at the Top 5 Moments at Augusta and the amazing win by Tiger Woods.
2019 MASTERS FINAL ROUND HIGHLIGHTS
The final round starting with Tiger Woods two shots off Francesco Molinari's lead. Woods tied the lead on the 12th hole when Molinari found the water off the tee and made a double-bogey. Woods took the lead with a birdie on the 15th hole and would go on to win the Masters. He set a record for the longest span between Masters wins – 14 years.
TOP 5 MOMENTS AT AUGUSTA – 2019 MASTERS
1. MOLINARI PLAYS BOGEY-FREE DURING THE FIRST AND SECOND ROUNDS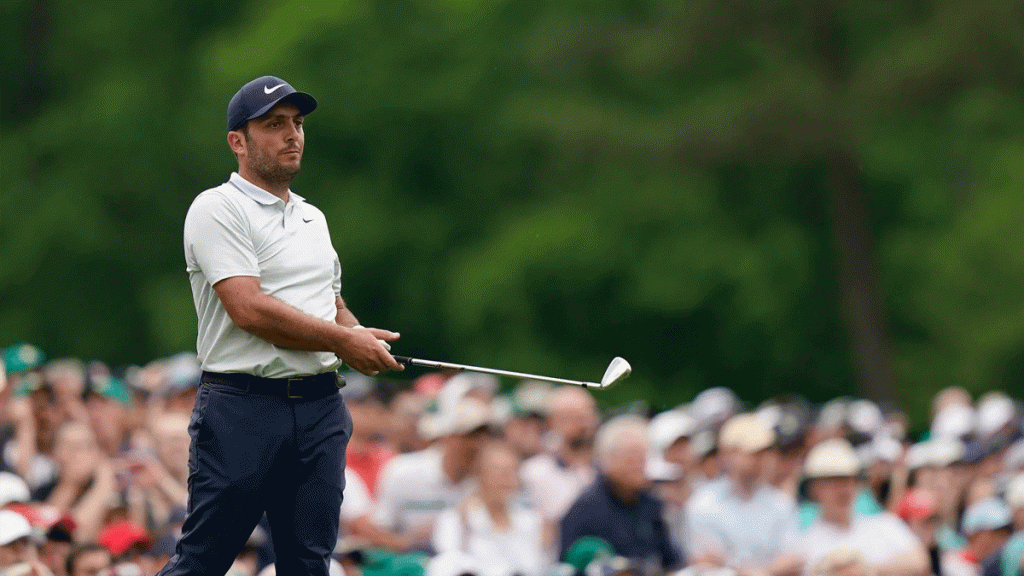 Francesco Molinari, a British Open champion, didn't let the rain or Tiger Woods stop him on Saturday. He produced a solid scorecard and his first and second rounds were bogey-free for 6-under 66. He would go into the third round 2-shots ahead of Tiger Woods.
"Obviously it's nice to be a little bit ahead, but you might just need one hole to change," You never know how it's going to go, especially around a course like here," said Molinari.
And, a zoned-in Molinari is used to the pressure from Tiger Woods. The two were paired up at Carnoustie last year during the final round. Again, Molinari was bogey-free and won his first major. 37-year-old Molinari who first played at Augusta 2006, was caddie to his brother, Edoardo.
2. DECHAMBEAU MAKES HIS FIRST EVER HOLE-IN-ONE ON THE 16TH HOLE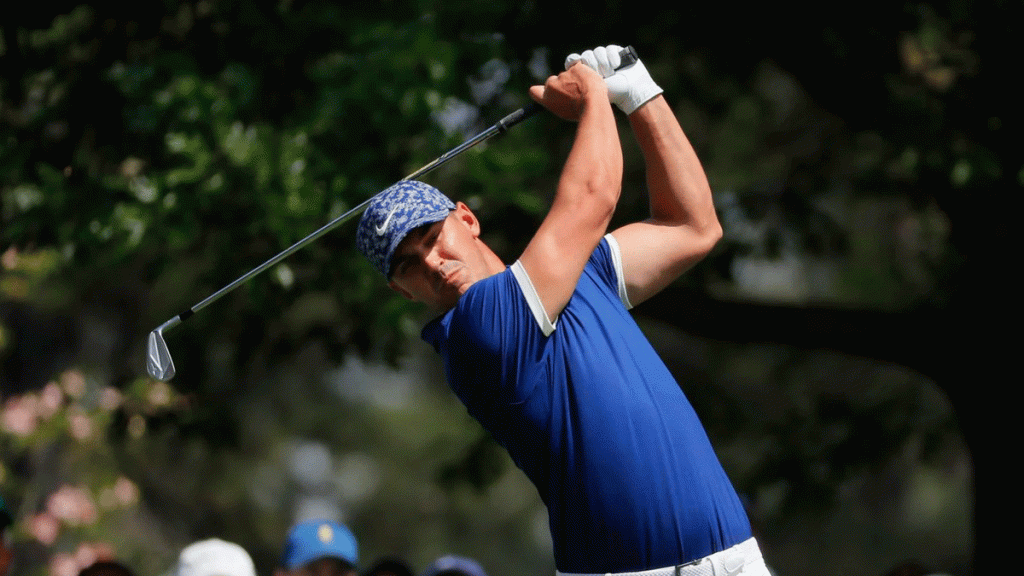 In his final round, Bryson DeChambeau made his first hole-in-one on the 16th, a par-3. Hitting the 170-yard shot with his 7-iron, he landed to the right of the pin where the slope helped feed the ball to the cup. His ace would be the first one of the week at the Masters. It was also the 21st ace in Masters history.
"Three years ago I said to my caddie and to everyone in my camp 'I'm going to make a hole in one here one day' and sure enough it was my first one three years later," said an excited DeChambeau about the shot.
3. THE TURNING POINT AT THE 12TH WHERE TIGER'S PAR TIED HIM WITH MOLINARI
When Tiger parred on 12, it put him in a tie with Molinari who double-bogeyed the hole. And, that 12th hole was a turning point in the game. Players in the last group who found water off the tee included Finau, Molinari and Kopeka. And, all of the double-bogeyed while Woods made par.
About the moment, Woods said, "You couldn't have had more drama than we all had out there. Now I know why I'm balding. This stuff is hard."
4. DAY'S EXCEPTIONAL PLAY DESPITE A BACK INJURY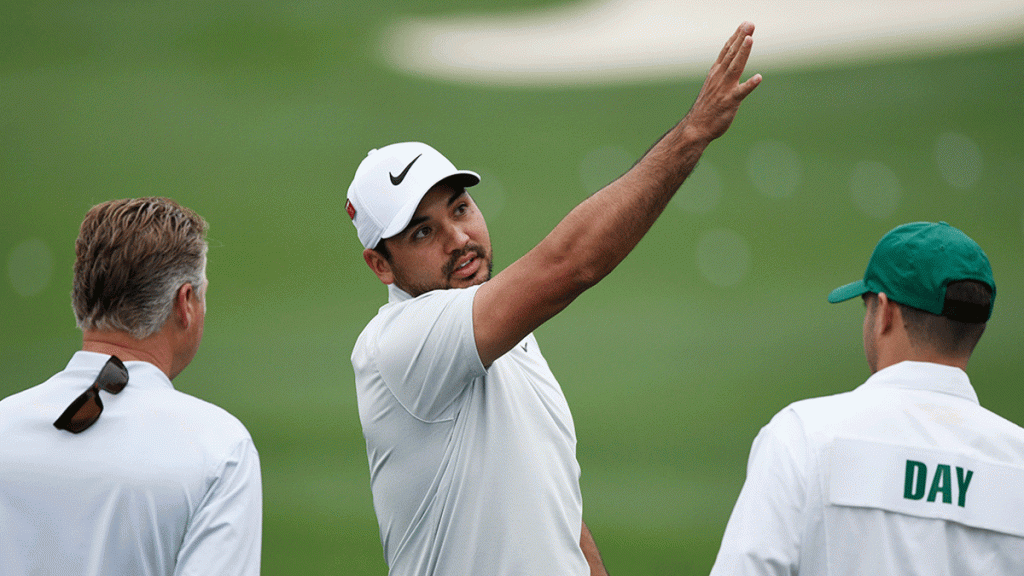 Jason Day shot 5-under 67 and tied for the lead during the second round. This was despite a back injury when Day leaned over to kiss his daughter before he walked on the first tee. He would birdie all the par-5s to make it to 7-under before the weekend. Day's trainer would follow him around the course providing him back treatment. And, at one point Day thought about pulling from the tournament. But, he pressed through.
Back injuries plagued the Australian native at Bay Hill where he had to withdraw. But despite the challenges he's faced with his back over the years, he won the PGA 12 times. He took the PGA Championship in 2015. And, He won two times last year. He's ranked 14th among the best golfers in the world. And, he's not letting up.
5. Woods Ties for the Lead on the 16th – An Iconic Moment. And, Wins the 2019 Masters with a Par on 18
Tiger claims the lead at the Masters 2019 when he birdied on the 15th with a 216-yard drive. He then birdied and tied for the lead on the 16th despite the tough left-to-right breaker. He parred on 17 and 18 and finished with a bogey and a two-shot lead to win the Masters.
Woods now has 5 prestigious green jackets. And, it's no surprise that the win for Woods occurred on April 13th. It appears to be his lucky day. Woods won his first Masters on April 13th back in 1997 when he was 21-years-old.
THE MASTERS 2019 PAYOUT
With the Masters purse at $11.5 million pool, Tiger Woods walks away with $2,070,000. $858,666.67 goes to Dustin Johnson, Xander Schauffele and Brooks Koepka. Francesco Molinari, Tony Finau, Jason Day and Webb Simpson each took in $403,937.50.
HOW TIGER WOODS SCORED AT EACH HOLE
HOLES 1-3
Tiger's game started slow on Hole 1 (par 4) and Hole 2 (par 5). He parred the first hole and used his 3-wood left of the fairway landing on the middle of the green. He tried birdieing at 34-feet and tapped in for the opening four. A 6-way tie was underway for first with Finau, Day, Molinari, Scott, Oosthuizen and Koeka.
Tiger messed up his drive on the 2nd hole and hit right of the fairway. A steep lip stopped him from getting on the green. Hitting from 140-yards, he landed on the right side of the pin. With a 32-foot foot putt on a hilly slope, he made it to the hole, tapped in and parred. At Hole 3 (par 4), Tiger used a driver to get on the fairway. He managed to get 15-feet from the hole but his birdie approach fell short. He tapped-in par.
HOLES 4-6
On Hole 4 (par 3), Tiger birdied with an iron from 18-feet. A nice roll, it didn't drop solid and he parred. By Hole 5 (par 4), Tiger's drive landed him in the left fairway bunker. It's challenged the best of players and Woods would fall short of the green because of the lip. Faced with a 20-foot putt for par, he bogeyed. At Hole 6 (par 3), Tiger regained his momentum hitting 18-feet above the hole. The putt put him 3 behind Finau who birdied.
HOLES 7-9
Hole 7 (par 4) saw a tap-in birdie for Woods. His driver led him straight down the fairway and hitting one foot from the hole, a perfect tap-in. -9 are Schauffele, Simpson and Finau. Simpson is now -8. At Hole 8 (par 5), old Tiger Woods is back, nailing 314 yards on an uphill swing. Was it luck or his famous red shirt? Hitting probably his best shot here with a 3-wood, he landed 10-feet from the hole for the birdie tap-in that put him behind Simpson and Finau by only one.
Tiger made par at Hole 9 (par 4) with a drive that put him into the trees but managed to land shy of the green. Grateful it didn't roll back downhill, a perfect pitch put him 3-feet away and right in the middle with the par putt. Finau birdied, Schauffele and Simpson are -9, and Tiger's -8 with Molinari and Day.
HOLES 10-11
At Hole 10 (par 4), Tiger cleared the tricky par 4 with a controlled shot that put him 25-feet from the cup where he was able to pull off a par in 2 putts. Hole 11 (par 4) was sheer luck. Tiger hits a foul ball right of the fairway but then gets lucky with a clear shot to the green. He used a wedge to clear 25-feet where he would 2-putt for par.
HOLES 12-14
With Hole 12 (par 3), Woods had a good tee shot and hole with two putts. Hole 13 (par 5) brought a high hook for Woods, that was so fortunate that it didn't land in the water. He pitched to within 6-feet and his putt put him -3 and two behind Finau. Finau who is at -9 is tied with Schauffele, Molinari and Simpson for second place.
At Hole 14 (par 4), Tiger's luck failed a bit. Despite a stellar drive down the center of the fairway, his ball rolled 40-feet. But he tapped-in par and is now tied for fourth place, while Molinari and Schauffele are -10.
HOLES 15-16
At Hole 15 (par 5), Woods hit a 216-yard drive and used a 5-iron to get on the green where he birdied. This put him -4 and one behind Finau. With the textbook drive swing, one broadcaster overheard Woods tell his caddie, "That's 240-yards with a 5-iron!" And he should be proud. His chip was perfect and the ball rolled down a slope to the pin for the tap-in.
With Hole 16 (par 3), Woods hit within 7-feet. But, a tough putt that's been leaving others shaking their heads was waiting for him. Tiger didn't let the left-to-right breaker stop him from a birdie and he tied for the lead.
HOLES 17-18
At Hole 17 (par 4), Tiger hits straight down the fairway, but with 160-yards, he fell short with his next iron swing. Two fast putts and exceptional play has Woods heading to the 18th for the win. Molinari would birdie on 13 and 14 and is at -12.
Woods pars at Hole 18 (par 4). Hitting past the bunkers on the right, he lands center fairway. His 8-iron swing was a bit too long and he took his time with a 30-foot birdie shot but it slipped left slightly. He tapped-in par for the win at 5-under 67.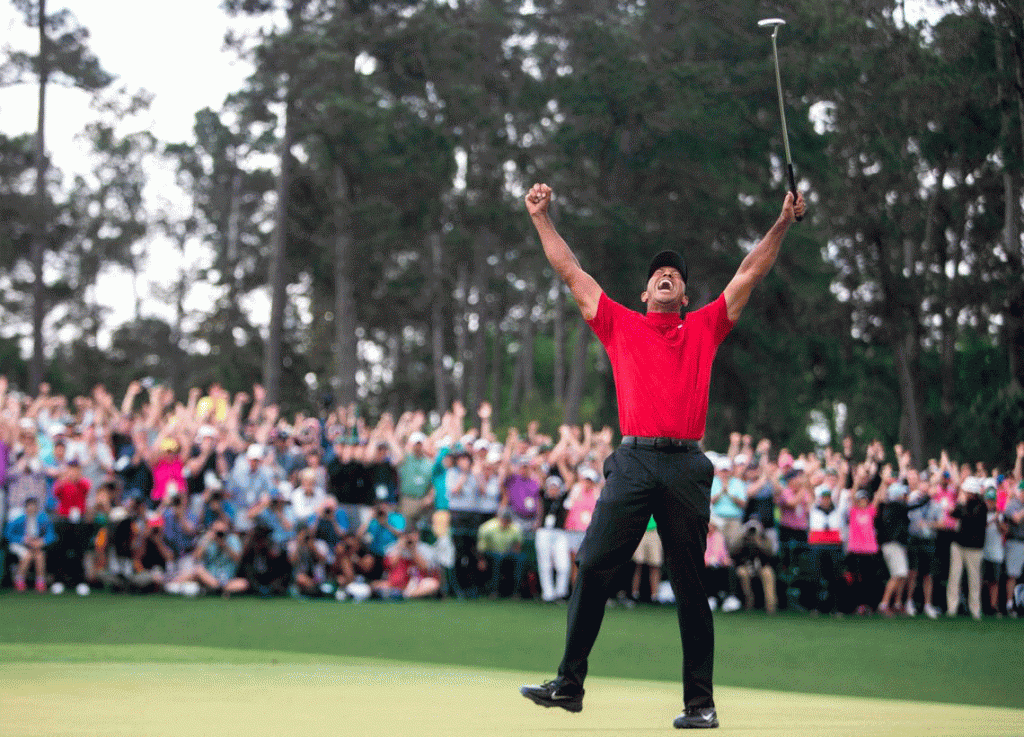 THE DEGREES OF DIFFICULTY AT THE MASTERS
TEA OLIVE – HOLE NO. 1
Hole No. 1 is 445-yards, par 4. With a dogleg right that plays uphill, it's not an easy tee shot. Players need to hit 300-yards or face an uphill shot to the uneven green.
DOGWOOD – HOLE NO. 2
Hole No. 2 is 575-yards, par 5. Players can reach the green in two. The green is guarded by two front bunkers that often come into play.
FLOWERING PEACH – HOLE NO. 3
Hole No. 3 is 350-yards, par 4. Players might opt for a long iron or fairway wood when hitting off the tee. The green slopes from the right and then left and isn't clearly visible from the fairway.
FLOWERING CRAB APPLE – HOLE NO. 4
Hole No. 4 is 240-yards, par 3. Players should use a long-iron shot to the green. But, caution, it includes 2 adjacent bunkers.
MAGNOLIA – HOLE NO. 5
Hole No. 5 is 495-yards, par 4. It was lengthened 40 yards in time for the 2019 Masters Tournament. Players need to be strategic. Deep fairway bunkers to the left will need a 313-yard carry around a dogleg. And, challenging green humps make putting difficult.
JUNIPER – HOLE NO. 6
Hole No. 6 is 180-yards, par 3. It's downhill and requires a medium or large iron. The green is uneven making a 3-putt likely.
PAMPAS – HOLE NO. 7
Hole No. 7 is 450-yards, par 4. A new tee was installed (2002). Players will face a narrow fairway that leads to the elevated green (well-bunkered).
YELLOW JASMINE – HOLE NO. 8
Hole No. 8 is 570-yards, par 5. It's challenging for players who want to complete this in 2 shots due to the large fairway bunker. The blind shot that's uphill can also prove problematic.
CAROLINA CHERRY – HOLE NO. 9
Hole No. 9 is 460-yards, par 4. The challenge here is the heavily sloped green. Players need to be accurate off the tee. Shots that fall short will likely roll off the green.
CAMELLIA – HOLE NO. 10
Hole No. 10 is 495-yards, par 4. The tee was moved back about 5-10 yards (2002) and moved 5-yards to the player's left (2002). The fairways landing zone was sand-capped (2011). As one of the toughest holes, players need to hook hard to get more distance. But, if they go right too much, they'll have a longer second shot. Too far left? They'll run into the trees.
WHITE DOGWOOD – HOLE NO. 11
Hole No. 11 is 505-yards, par 4. It's an extremely difficult hole given the added length (2006). Players should slightly fade off the tees to help them reach the fairway. The pond can also pose a problem because players will need to make longer shots.
GOLDEN BELL – HOLE NO. 12
Hole No. 12 is 155-yards, par 3. And, it's a beast if winds are prevailing. Players should use their medium- or short-iron and take caution with the narrow green. With a creek in the front and azaleas in back, it's no shot in the dark.
AZALEA – HOLE NO. 13
Hole No. 13 is 510-yards, par 5. It can prove difficult. A new tee was added (2002). A slight draw is needed to get ready for the second shot. Players who hit short might see their balls end up in the creek.
CHINESE FIR – HOLE NO. 14
Hole No. 14 is 440-yards, par 4. It has no bunker but severe greens can prove problematic. Players may opt for a driver in lieu of a 3-wood. The fairway slopes so shots get kicked into troublesome spots to the right. And, the uneven green is challenging for many players.
FIRETHORN – HOLE NO. 15
Hole No. 15 is 530-yards, par 5. Changes made over the years make this hole quite difficult. The tees were moved back 25-30 yards (2006) and shifted to the golfer's left (2006) making it hard to reach the hole in 2 shots. But birdies are possible. For one, a pond blocks the green in the front. The problem? It's a hard shot from the downhill lie.
REDBUD – HOLE NO. 16
Hole No. 16 is 170-yard, par-3 and requires a short- or medium-iron. Hazards are the back bunker and there's also a pond. A player's best shot is to aim to hit below the hole.
NANDINA – HOLE NO. 17
Hole No. 17 is 440-yard, par 4. Players that use a short iron for their second shot can land on the green. Changes to the hole include the tee which was moved back 10-15 yards (2006).
HOLLY – HOLE NO. 18
Hole No. 18 is 465-yard, par 4. It's quite troublesome as the tee was extended (2002) and the bunker complex was adjusted (2002). Players must ensure an accurate drive. There's also an expanded bunker requiring a clout of about 335-yards for players to carry. Obstacles include trees left of the bunker and an elevated green that's blocked by the bunkers.
Now that Augusta is over, it's your turn to hit your best shots. If you live in Las Vegas or are planning to visit soon, make sure and come play our courses. book your next tee time at Chimera Golf Club today!
Chimera Golf Course is located in Henderson, Nevada. Designed by Ted Robinson, Jr. in 2003, it sits on 6,906 yards. With forgiving fairways in a playable desert landscape, it offers challenges from any tee. Players can enjoy other activities that include foot golf, golfboards and a bite to eat at Slice 19. With unparalleled views of the Las Vegas Strip