It's official – the big question has been popped and it's time to start planning your first wedding-related celebration: the engagement party. Whether you're daydreaming about an intimate wedding or an elaborate event, why not kick things off with an engagement party in the city made for bringing people together? Las Vegas offers endless opportunities for event planning – from large, over-the-top affairs of several hundred people to personal gatherings in vintage bars or rooftop gardens. If you're still on the fence about where to throw your engagement party in Vegas, peruse the many varieties of locations and venues to throw an engagement party for all your family and friends. We've gathered the top five places to have your engagement party for all personalities and event style.
Professional Event Spaces in Vegas
Vegas is packed with a range of professional event spaces that host weddings, rehearsal dinners and celebrations like engagement parties. While some event spaces offer a blank slate for your design, others incorporate the historic and vintage design that set a unique tone. When choosing a professional event space for your engagement party, consider whether the size and layout of their space speak to your vision. Many spaces, for example, offer a range of rooms or varying ways to host larger or smaller events by changing the room's layout.
It's also important to consider whether the event space offers in-home catering. If you'd prefer to work with a specific outside caterer, then this is ideal. Otherwise, be sure to check before booking so you don't have to do additional legwork.
Vegas event spaces for your engagement party range from scenic spaces tucked into a golf resort to iconic hotels on the strip like The Bellagio. Vegas also offers unique event spaces for rent inside ornate mansions, modern museums and Jazz-age inspired nightclubs.
Pros of choosing a professional event space for your engagement party:
All-inclusive spaces
On-site catering
Flexible space
Blank slate for décor (depending on the space)
Equipped for large parties
A Professional Event Space is best for couples:
With guest lists large and small
Seeking a flexible menu
Flexible schedule for afternoons or evening events
Would like a dance floor
Flexible with location in relation to the center of the city
Able to book in advance
Restaurant or Bar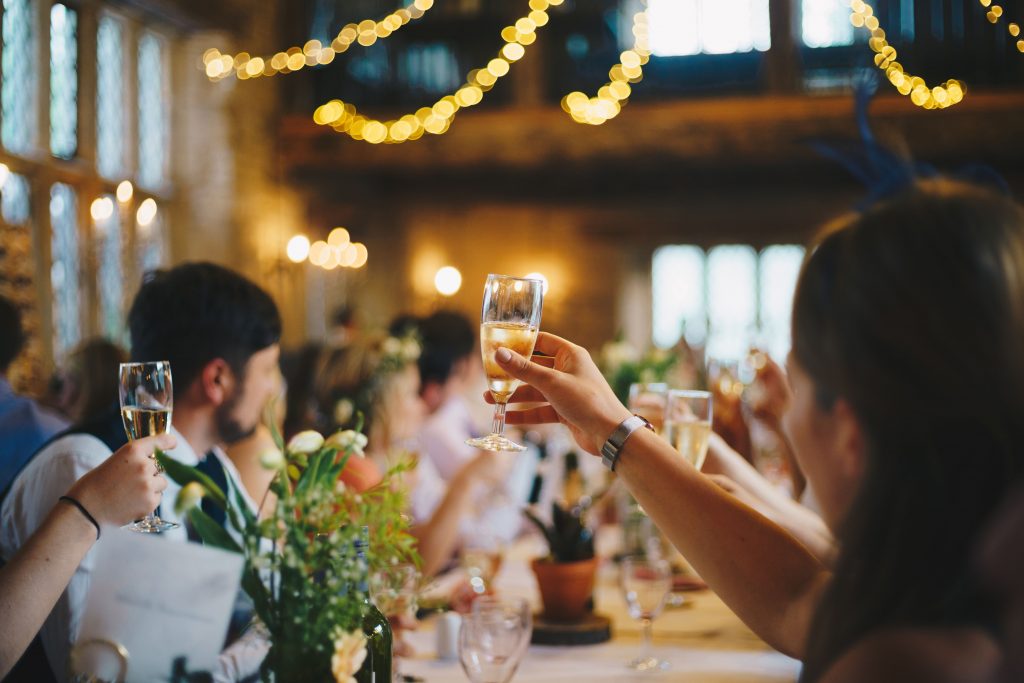 If there's one city equipped for throwing a large bash in a swanky bar or restaurant, it's Vegas. Many restaurants offer separate rooms or reservable areas for large parties with advanced notice. Throwing your party in a Vegas restaurant gives you access to Sin City's fine-dining scene as well as some of the area's top cocktail, beer and wine bars. Many bars along the Strip feature a DJ on certain evenings, meaning you can dance the night away after you toast to your engagement in your private area. Throw your bash at a large German beer hall, an arcade-inspired bar or an iconic nightclub with several floors of options for your celebration. Some social clubs also feature live performances, music and other Vegas-worth spectacles.
If you choose to have a full meal at a restaurant for your engagement party, it is important to have a final headcount ahead of time with all your guests arriving around the same time. If the restaurant offers private catering options, it may be more cost-effective to choose pre-set passed appetizers and a specified level of open bar.
Pros of choosing a restaurant for your engagement party:
Unique atmosphere
Ample choices in your desired location
Best for a wilder night out on the town
Lunch and brunch options for a calmer gathering
A restaurant or bar is best for couples:
With a smaller guest list or smaller budget
Passionate about a specific chef, bartender or business
Planning a more high-energy evening
Seeking brunch options within a more traditional setting
Casino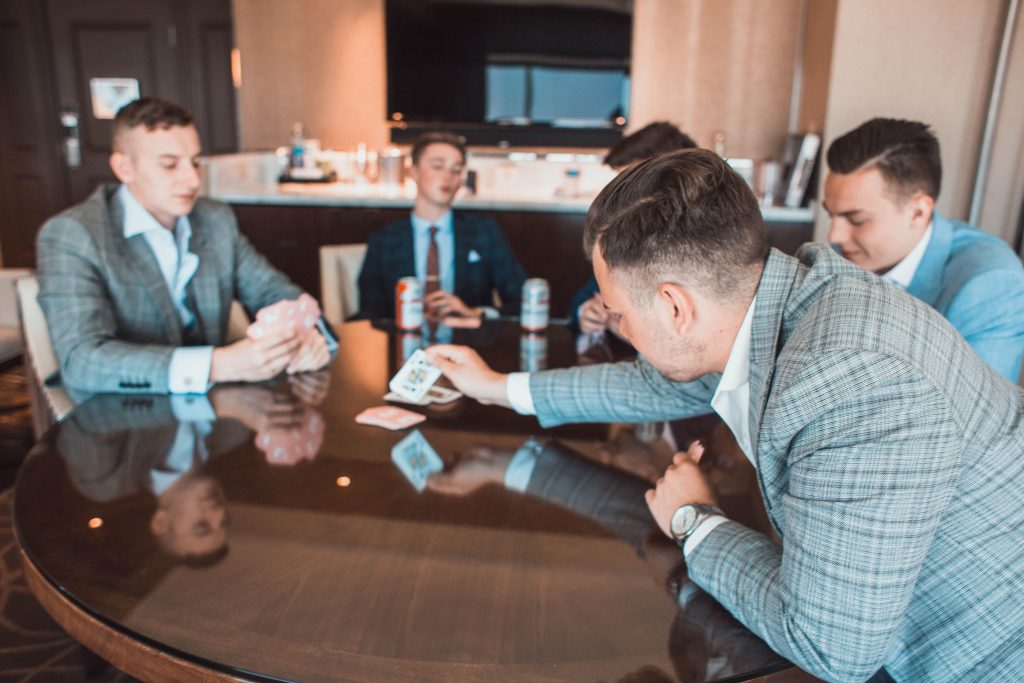 Vegas is known for its, restaurants and casinos, making it a prime spot for engagement parties and similar pre-wedding bashes. Many resorts offer event packages to couples looking to plan a wild evening filled with the Vegas nightlife scene. Opposed to choosing a set location and party, hold your engagement gathering at a Casino ballroom to host an entire evening or even weekend of events.
Many Las Vegas casinos double as event spaces, offering a range of intimate and expansive party venues. Some party packages give guests the option of adding accommodations in their hotel, dining in their restaurants or utilizing their gym and spa. This is an excellent option if you want to have a traditional party in one of their private rooms while suggesting ways your guests can take advantage of the city on their own time. If your friends and family are traveling from out of town, check in with the event space about welcome events like brunch and cocktail hours.
Throwing your engagement party at a traditional casino and resort entrenches each guest in the heart of Vegas excitement. With so much to do in the city, be sure to assist your guests by suggesting an itinerary for their Vegas weekend. Include a schedule of local shows, concerts and events as well.
Pros of choosing a casino for your engagement party:
All-inclusive packages for guests
Endless opportunities for entertainment
Easy access to accommodations
Flexible event spaces
A casino engagement party is best for couples:
Excited about the Vegas nightlife and entertainment scene
Working with a flexible budget or small guest list
Looking to expand their party to the entire weekend
Hoping to plan a destination weekend for their engagement celebration
Outdoor Venue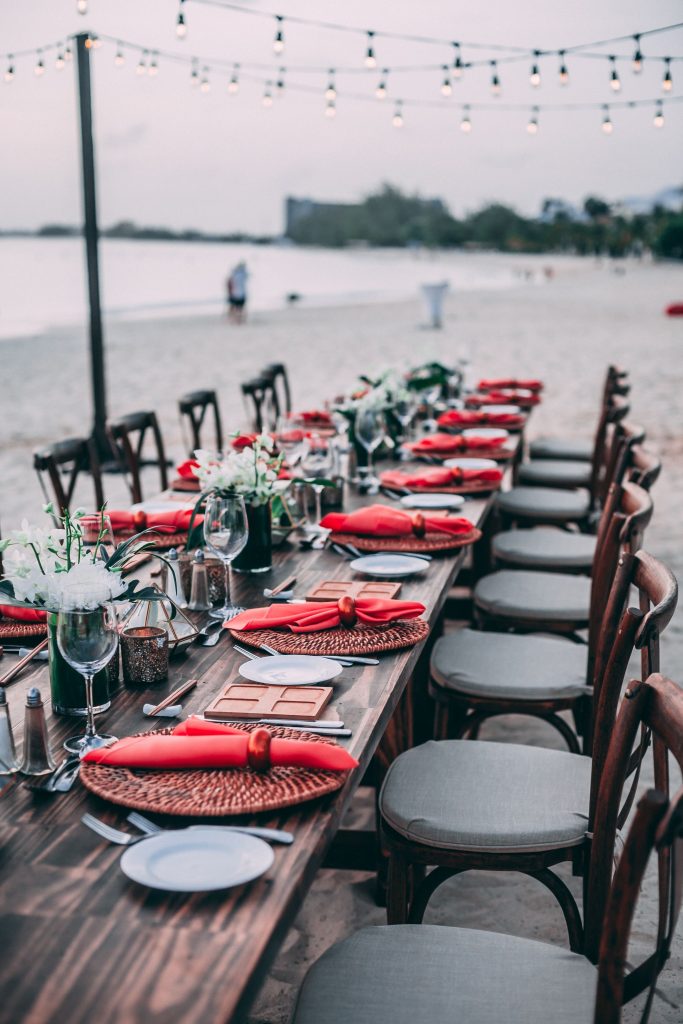 Las Vegas' stunning sunny weather is one of the main draws for holding an event or planning a wedding in Sin City. Both public and private event spaces overlook Vegas' ample panoramic views. Plan a truly unique engagement party experience by holding your party outside.
Private outdoor event spaces in Vegas include golf resorts, country clubs, rooftops and backyard terraces. Choose a resort that offers unforgettable views as you gather and celebrate, especially for all your photo opportunities. Unlike public parks, private outdoor spaces often include indoor alternatives in the event of inclement weather. They also take care of all food prep, setup and bartending, which does require additional planning in a public space.
Public parks in Vegas are an excellent budget-friendly option for your engagement party as well as a way to celebrate the city. Special areas and pavilions within public parks can be rented for private events of up to 200 people. Fees range between $15 and $75 an hour depending on the size of your gathering.
You can also throw your party for free in one of the non-reservable park areas in Vegas. These do however, go at a first-come, first-served basis which can be difficult for planning large parties.
Throwing an outdoor engagement party in Vegas is also unique due to the city's lax drinking laws. With exceptions for certain areas of the city, you may drink open containers of alcohol throughout the city.
Pros of choosing an outdoor event space for your engagement party:
Beautiful views and warm weather
Minimal décor required
Budget-friendly options, especially in public spaces
Flexible for evening and afternoon events
An engagement party in an outdoor space is best for couples:
Who prefer the outdoors for gathering and activities
Have a backup location in the event of bad weather
Looking to plan a low-key even in a public space
Tour or Activity
What if you prefer to skip the traditional engagement party setup altogether? Many modern couples are choosing to bring their loved ones together for unforgettable experiences as opposed to food and beverage-focused parties. Vegas is packed with exciting activities, from helicopter rides and hiking adventures to world-class entertainment and food tours. If you truly want to wow your guests, consider a few iconic Vegas activities to create lasting memories with loved ones in honor of your engagement:
Party tours: Vegas is equipped with countless tour companies that will pick up your friends at the start of the evening and treat them to a wild night of dining, nightlife and entertainment. Rent a limo or party bus for an engagement party worthy of a bachelor or bachelorette party.
Food tours: In addition to its casinos and entertainment, Vegas is known for its dynamic food scene. Choose tours that focus on fine dining, historic neighborhoods, beer, wine or even boozy brunch.
Helicopter Flight: Enjoy a unique adventure with a small group of guests by zipping over the city in a helicopter tour. Some companies even combine a world-class dining experience before picking up guests for a ride.
Take a Cooking Class: Group cooking classes are always a way to please your guests with a unique experience. Study French cuisine or cocktail making before heading to your own gathering to celebrate your culinary success.
Be sure to unwind and reconnect after your class or activity with more traditional gathering. Stopping to have a drink or serve a meal before the group disperses allows you to check-in and cheers to your upcoming nuptials. If you want to plan a full day of exciting activities, plan a traditional engagement party in an event space or restaurant after a day of exploring the city.
Pros of planning a tour or activity for your engagement party:
Ideal for small groups
Unique photo opportunities
Creates lasting memories
Celebrates the unique offerings of Las Vegas
Offers a budget-friendly solution for your celebration
Planning a tour or activity for your engagement party is best for couples:
Looking to break free from the norm
Passionate about a specific activity like cooking, hiking or travel
Gathering a small group
Planning a separate party at the end of a day of activities
Now that you're preparing to tie the knot, planning the perfect engagement party is your first priority. When you work with professional event planners, your event team can transform your party ideas into a reality. The Pavilion at Chimera Golf Club is a premier event space on one of the most scenic properties of the Las Vegas area. We offer flexible event spaces for engagement parties, rehearsal dinners, weddings, and all related events. Each couple meets with their own private event coordinator to map out the details of their big day. On-site catering takes away all the guesswork of planning an unforgettable brunch, dinner or cocktail hour for your guests. As an all-inclusive wedding venue, we have experience managing all the small details so you can focus on your big day and all the excitement and celebration that comes before.
Our flexible event space means that couples can simplify their wedding and engagement party planning experience by throwing all of their events in one place. If you're planning a destination wedding, welcome guests with an engagement celebration right at the start of the wedding week. Explore the city to take in all the sites, casinos and entertainment before returning back for a classic wedding day overlooking the stunning sites of Las Vegas.