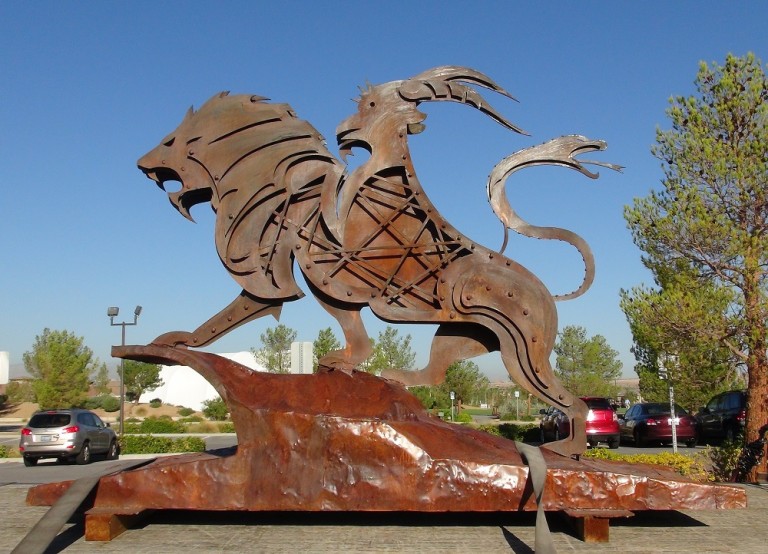 When you search for a great golf club, you look for perfect conditions, the relaxed atmosphere and a staff that will greet you with a welcoming smile and make you feel right at home. There are many golf clubs that could potentially meet this criteria, but Chimera Golf Club makes it a mission to reach above and beyond.
Chimera Golf Club is a shining jewel in the middle of the Nevada desert. It's an escape, a place to relax while enjoying a great sport, as well as a place to eat a good meal with old and new friends. So, why in the world did we name this place "Chimera?"
Chimera, pronounced ki-meer-uh, is a mythological fire-breathing creature that is represented with a head and body of a lion, a goat's head ascending from its back and a serpent for its tail. The much feared Chimera, born of monster gods, brought about a great havoc and terrorized the countryside. Eventually, the Chimera was overcome by the unconquerable hero, Bellerophon atop his trusty winged horse, Pegasus.
To us, Chimera is a symbol for unlimited imagination, creativity, and passion. It also symbolizes the search of what appears unattainable or elusive ("to chase Chimeras"). That is why we asked Ramon Sanchez to craft a magnificent statue of a Chimera and place it where generations can come see it, take their picture with it and remember this special oasis in the desert.
In homage to the beautiful Tuscany Village neighborhood where our course is located, we chose the traditional red and white colors of the Region of Tuscany, as our club colors. On May 20, 1975, the Flag of Tuscany was adopted. It has two red horizontal stripes on a white background and an image of a Pegasus in the middle. Our flags out on the golf course are replicas of the Flag of Tuscany; however the Chimera is in the center instead of the Pegasus.
Written about by poets and crafted by artists for centuries, Pegasus also has a special place on our course. The Pegasus statue is placed behind the #1 championship tee box, nicknamed the Pegasus Tees, and is set to forever inspire all the champions who play at our course.
With the help of the immortal Pegasus, Bellerophon was able to defeat Chimera, the fire-breathing monster. For our players, it can symbolize hitting that perfect shot, winning a tournament or reaching that personal best round. Our desire is to be an iconic brand in Las Vegas for many years to come. These symbols express our faith that they will have the same meaning for everyone who has the opportunity to play our magnificent course.
Chimera Golf Club is not just your average club. It is a place that has been designed for legends like you, will you defeat Chimera?
If you would like more information, we encourage you to check out our programs page or contact a representative for the golf club today.