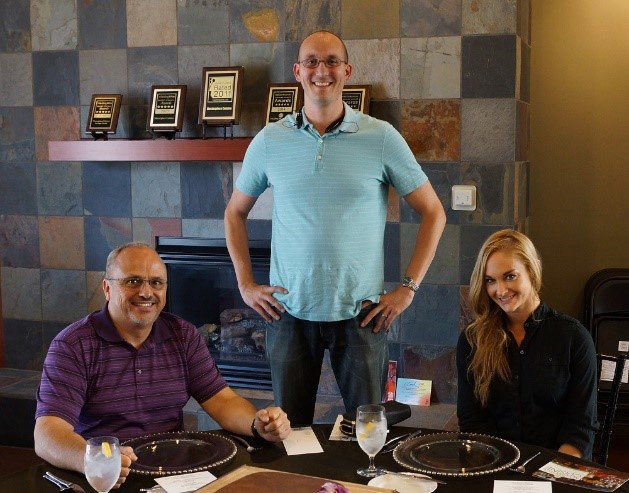 The golf course at Chimera Golf Club is known as one of the most popular courses in Southern Nevada. New owner, Tom Burke, has been making many improvements to the course enhancing the golf experience. In addition to the course, Mr. Burke is improving the experience at Chimera's Bar and Grill. A new chef, menu, indoor/outdoor furniture and even new restaurant tableware by Guy Fieri are just a few of Chimera's recent upgrades.
Now more guests are going to be able to enjoy the Bar and Grill with the announcement Chimera Golf Club has chosen Masterpiece Cuisine Catering of Henderson, Nevada as their preferred caterer for large parties, golf tournaments and weddings. The events can be as large as 210 attendees. Masterpiece Cuisine is a well-known Southern Nevada full service wedding, holiday and corporate event caterer and planner. They are the recipient of the Wedding Wire Couples' Choice award for 2014 and 2015. They cater from simple meals to large buffets and gourmet meals for public and private events. Their experienced staff has worked in conference centers, at private weddings, office buildings, churches, private homes and many more. Now they can add Chimera Golf Club to their resume. Masterpiece also offers vegetarian, vegan, gluten free and eco-friendly catering.
Prior to finalizing the deal between Chimera Golf Club and Masterpiece Cuisine, Masterpiece put on a tasting for Owner Tom Burke and Chimera's Food and Beverage Director Kelsey N. Clark at their facilities in Downtown Henderson, Nevada.
The tasting had four courses consisting of the following:
First Course: Prosciutto wrapped asparagus and apple mojito.
Second Course: Pancake bites with a house made strawberry lemonade, roasted chicken and endive with a rosemary citrus spritzer.

Third Course: Masterpiece strawberry walnut salad.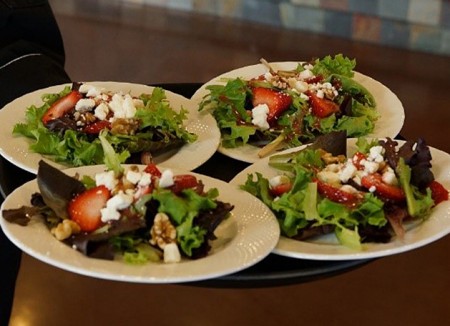 Fourth Course Part 1: Couscous and basmati rice with toasted almonds, fire grilled asparagus and garlic glazed chicken breast.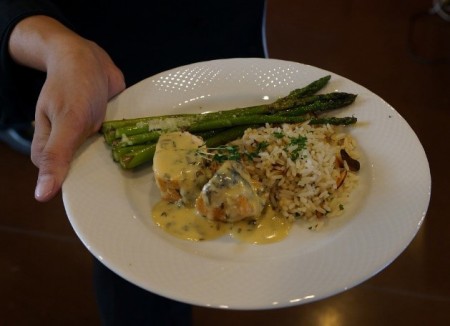 Fourth Course Part 2: Buttermilk smashed potatoes, fire roasted vegetable medley and salt and pepper roasted tri tip.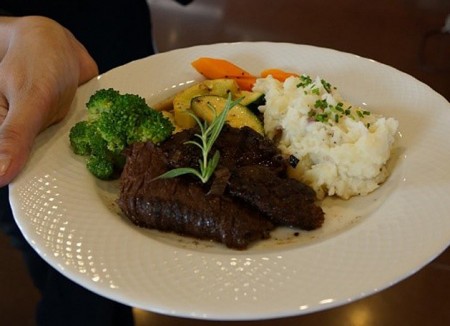 The food was delicious and the presentation amazing. Afterwards, everyone got a tour of the facilities at Masterpiece Cuisine including the kitchen. Their kitchen is big enough to serve over 3,000 meals in one day. Tom and Kelsey were so impressed by the quality of the food, the size of their kitchen and level of professionalism, the decision was made, Masterpiece Cuisine would be their preferred caterer for their Bar and Grill.
Masterpiece Cuisine Co-Owner, Scott Mahan, gathered his team together on the spot and proudly announced the good news. In addition to enjoying an outstanding round of golf and regular dining at the Bar & Grill, people can now add Chimera Golf Club as their preferred choice for hosting their special events. With Masterpiece Cuisine on board, they will surely be unforgettable.