When you visit Las Vegas, there's so much to take in. From eating in world class restaurants to visiting the beautiful fountains or the Bellagio Conservatory, there are so many activities in Vegas. You can enjoy the vibrant neon signs and casino action at night and view the picturesque Botanical Gardens or the Arts District during the day. If you're looking for convenient ways to get around Las Vegas, you won't have to worry about standing on a street hailing a cab either.
Las Vegas has many convenient commuting options to explore. Some of the casino hotels are connected so you can hop on a monorail and never have to go outside. There are also ride-share limos, fun tour buses and pub crawls by bike if you're looking for a way to really enjoy your stay. There are even 5-star travel options if you're a high roller.
Let's take a look at 10 ways to get around Las Vegas.
Buckle up… We're going in!
1. Take an Airport Shuttle to Nearby Las Vegas Hotels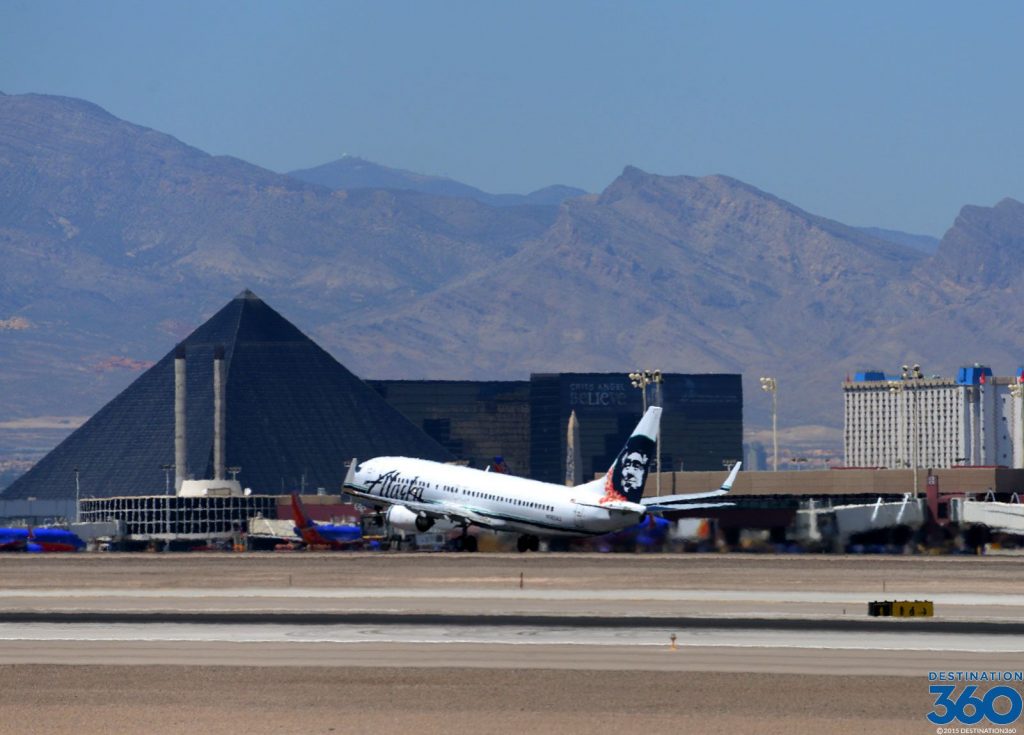 A convenient way to get to your hotel is to take a ride-share shuttle from the airport. Rates range from about $7 to $9 for one-way drops or $13 to $15 for round-trip service. Use the link below to book your shuttle or you can pay in person when you arrive. Shuttle services run 24-hours per day.
When you fly to Las Vegas, you'll land into McCarran International Airport (LAS) in either Terminal 1 or Terminal 3:
Terminal 1
Once you collect your bags from the baggage claim area (if applicable), you can exit from Terminal 1. You will find the airport shuttles there so look for exits 7 to 13. If you're interested in ride-share shuttles, these will be on the west side of the baggage claims area. Airport personnel can direct you to the shuttle that can take you to your hotel.
Terminal 3
Once you collect your bags from the baggage claim area (if applicable), you can exit from Terminal 3. If you're looking for ride-share shuttles, go down to Level Zero and go outside. The door is marked #51 (on the west side) if you're a domestic traveler. It will be marked #57 (on the east side) if you're an international traveler. Airport personnel can direct you to the shuttle that can take you to your hotel.
Click the link for available Las Vegas airport shuttles.
2. Drive to Vegas or Rent a Car and Park in a Parking Garage
Renting a car? Want to save money? You'll find car rental companies that include Avis, Enterprise, Alamo and Budget and there are different ways to book your car rental. You can book through the travel website you used (Expedia, Kayak, Orbitz). You can also book online at their site.
Note: You must be 21 or older to rent a car in Las Vegas. If you are under age 25, the car rental company may add a surcharge.
Liability Damage Waiver
It's recommended that you always get the additional collision damage waiver (CDW) insurance offered if you don't have your own automobile insurance. This waives the rental car company from charging you for damages if there's damage or theft to one of their vehicles. Other ways to obtain third-party insurance is through your credit card company or a third party car insurance company.
Car rental rates from CarRentals.com are subject to change. Current car rentals average about $15 a day.
For smaller models like a Nissan Versa or Mitsubishi Mirage, it costs $15 per day.
For a larger-sized vehicle, a Ford F150 will run about $22 per day.
A Mercedes Class C is $38 per day.
A BMW X3 is $55 per day.
Click this link for Las Vegas car rental comparison rates.
Free Valet Parking in Las Vegas
Another convenient feature in Las Vegas is that some hotels offer free parking or they will validate your parking. They want you to be able to enjoy your time at their establishment.
Tip: If the hotel offers valet parking, it's suggested that you tip the valet driver up to $5. Tip them more if you don't plan on staying long and want your car readily available.
Click the link for free valet parking garages in Las Vegas.
How to Find Hotel Parking
When you're ready to park at a hotel, look for their parking garage signs. You can also check their website for directions. Another option is if they have a bellman outside their driveway ask them to route you in the right direction.
Already paying resort fees? Save money with this link for Las Vegas parking garages and this link for Las Vegas free parking garages.
Note: If you're driving a van or truck, you might be stopped and your vehicle may be searched. Some of the hotels set up this security precaution after 9/11 to ensure the safety of all hotels in Las Vegas.
3. Take a Taxi or Order an Uber
If you're taking a taxi or ordering an Uber from the airport, you'll find this is a convenient way to go straight to your hotel.
Taxis from the Airport
For taxis, ask the drivers to take Swenson Avenue and not the airport tunnel. The tunnel is much faster but the rides are a few miles longer so your fare can go up by as much as $10. This process is called "long-hauling" and if a taxi driver is caught taking you a longer route, they can be fined. Save that extra money for the slots!
Taxis Near the Hotels
On the Las Vegas Strip and tired of walking? Head to any of the hotels and ask where their cab stand is located. Most taxis park in front of hotels (instead of parking directly on the strip) to wait for their next fare. You can also call for a taxi or ask the bellman to hail one for you. Another option is if you see a few people waiting for a cab, ask if they want to split the cab ride. Tourists in Las Vegas share cabs and minivan cabs if they're going in the same direction.
Tip: If you are looking for a taxi, they might not be bright yellow/orange. They might be covered in brightly-colored ads and might display a magic show or have images of showgirls on them. These are how taxis look in Las Vegas.
For taxi service, use the link for Las Vegas taxis.
Tip 2: In Las Vegas gambling, visiting the Bellagio fountains or attending a show like Cirque du Soleil? Take a picture of the taxi's license plate or vehicle number with your phone when you get out. That way if you leave anything behind, you'll know which driver you had.
4. Hire a Las Vegas Limo or Ride Share a Limo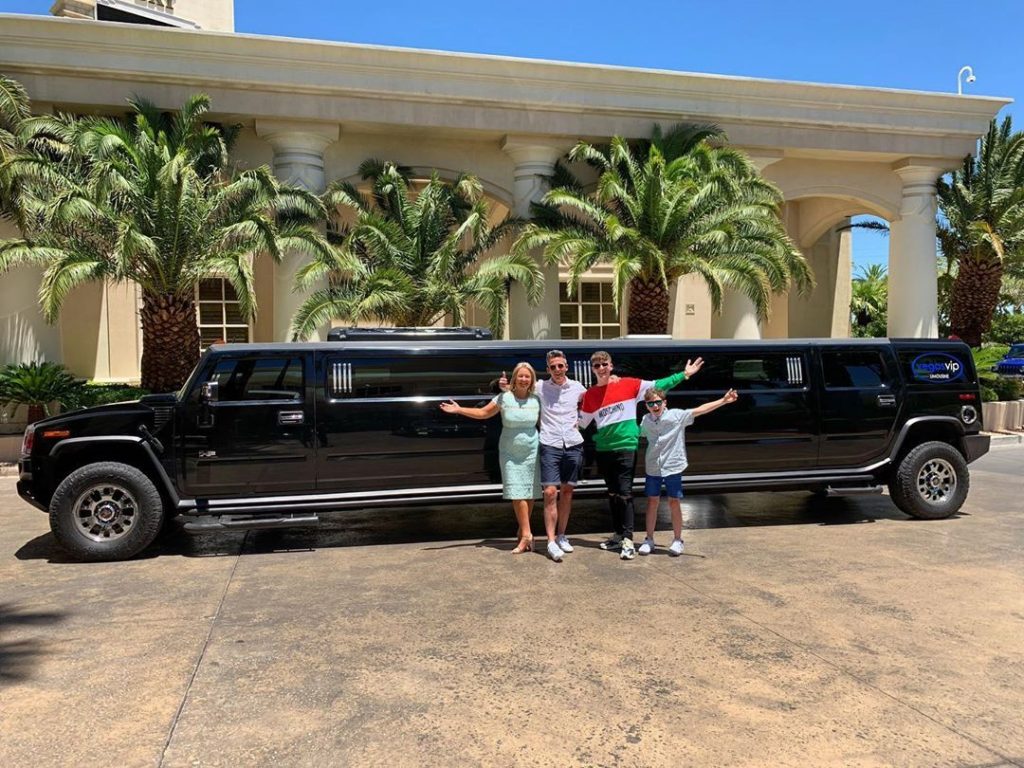 If you arrive at the airport, a classy way to start your trip is to hire a limousine. But if you don't want to pay a few hundred dollars, ask at the cab stand outside for a limo share. You may also see a limo stand with signs. The rides are about $10 per person but no champagne or caviar is included!
For limo ride shares, use the link for the limo ride-a-share through the Las Vegas airport shuttle.
5. Take a Public Bus in Las Vegas
Heading to the Fremont Street Experience or another tour? Want to take a bus? You'll find there are several ways to help you get around Sin City.
Citizen Area Transit (CAT) Bus Service
If you're visiting Las Vegas, you might see a double-decker bus or two. The Citizen Area Transit (CAT) bus service is a very efficient bus service. It has about 49 different routes that extend from Henderson, Nevada to the Las Vegas Valley.
The Deuce and The Strip and Downtown Express (SDX) Bus Services
If you're visiting downtown Las Vegas, the Deuce is another type of double-decker bus service in Las Vegas. It offers more stops, includes wheelchair accessible seating and offers 24-hour service. The Strip and Downtown Express (SDX) is another type of bus service but it offers limited service with fewer stops to top locations.
Deuces run every 15 minutes from 7 am to 2 am and then every 20 minutes from 2 am until 7 am. The SDX runs every 15 minutes from 9 am until midnight. Fares are $6 for 2-hour rides or $8 for an all-day pass. A three-day all-access pass is $20.
Click here for the Deuce and SDX schedules.
6. Hop on the Las Vegas Monorail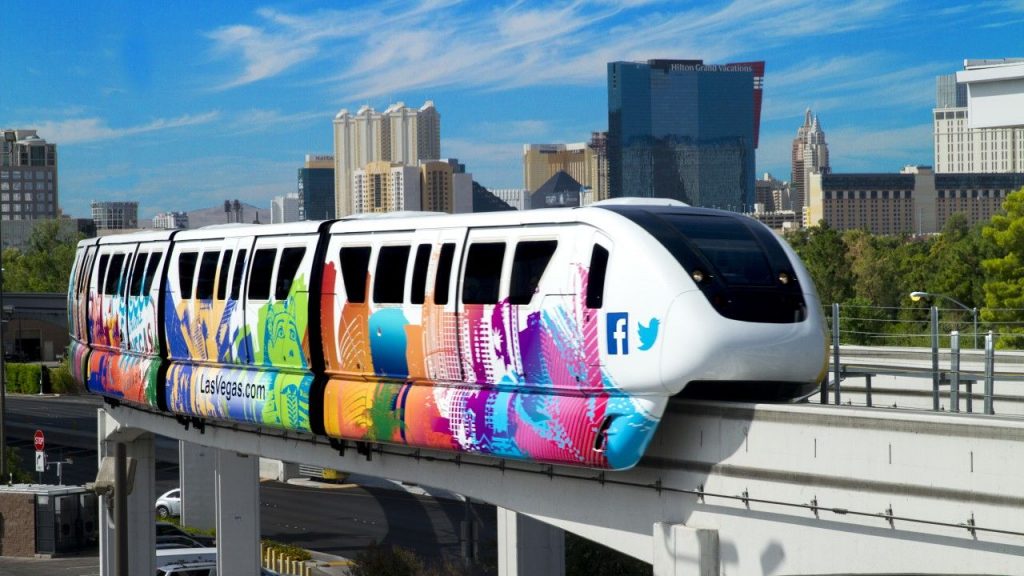 Heading from one Las Vegas resort to another? Tired of walking in the heat? Take the Las Vegas monorail. It's air-conditioned, only $5 (an all-day pass is $13) and a great way to check out the Las Vegas strip. You can head from one resort hotel location to the next.
Las Vegas Monorail Schedule
Monorail trains arrive every four to eight minutes and there are seven different stations. The monorail times are 7 am to 2 am Monday through Thursday and 7 am to 3 am Friday and Saturday.
The Monorail station stops include:
MGM Grand Station
Bally's Las Vegas and Paris Las Vegas Station
The Flamingo and Caesars Palace Station
Harrah's Las Vegas and the LINQ Station
The Las Vegas Convention Center
Westgate Las Vegas Resort Station
SLS Las Vegas Resort Station
Click here for Las Vegas monorail tickets. Click here for a 3D map Las Vegas monorail.
7. Walk the Las Vegas Strip
Heading to the Wynn Las Vegas or planning to view the Grand Canal or Stratosphere Tower? You'll find that a great way to enjoy the sites in Las Vegas is to walk around. The Las Vegas strip is pedestrian-friendly and the entire length of the Strip encompasses only 4.2-miles. There are all kinds of footbridges at the intersections and plenty of places to stop and get a bite to eat or try your hand at Lady Luck!
Tip: Check the weather before you agree to this, as summer temperatures can spike to 113 degrees.
Tip: Purchase a discounted Las Vegas Explorer Pass so you can save on attractions and only pay one low price.
Click here for the Las Vegas Strip map for walkers and tourists. Click here for a 3D map of Las Vegas.
8. Take a Las Vegas Bus Tour of the City
One of the best ways to enjoy Las Vegas is on a scenic bus tour. You'll find all kinds of tours can give you the history of the Las Vegas Strip and details about some of the celebrities and headliner shows. Sign up for a two or three-hour tour or look for a hop-on/hop-off tour so you can enjoy visiting famous landmarks, hotels and resorts throughout the day.
Click here for Las Vegas bus tours with hop-on/hop-off options.
9. Take a Pink Jeep, Three-Wheeled Slingshot or Bike Pub Crawler
Fun ways to get around Las Vegas include Jeeps, three-wheelers and group bikes. Bring out your adventurous side with one of these rides:
Pink Jeep Tours
Visiting Las Vegas with kids? If you're in Las Vegas for a golf outing and you've brought the family along, sign them up for a fun Jeep tour. Pink Jeep tours are open-air Jeeps and your driver serves as your tour guide. It's fun for a child's birthday party if they have an American Girl, princess or Barbie theme.
Bringing the girls to Vegas for a fun-fulled weekend? A Jeep tour can also be a treat for a girls-getaway weekend to the spa or to celebrate a bridal shower, birthday or divorce party. Two-hour tours are $69 for adults or $63 for kids.
Click here for Pink Jeep Tours.
Vegas Pub Crawlers
Ready for a biking pub crawl? It's the 3 C's of Vegas: cardio, craft beers and carbs. Bring along 19 of your closest friends and go bar hopping for drinks together in a steel vehicle with bike seats and pedals. With 4 to 5 bars on the agenda, your driver's there to make the 2.5-hour ride fun and lively. Just don't "crash" your own party. Rates are $40 per person.
Click here for more information on the Las Vegas Pub Crawlers tour.
Polaris Slingshot
Ready to go roofless and doorless? The Polaris Slingshot is an exhilarating open-air three-wheeling ride along the Strip. If you're up for a different kind of "rental", this hip car has two wheels in front and one in the back. Way to get around! Prices are $77 plus $15 for insurance for a 1-hour rental.
Click here for Adrenaline Rush slingshot rentals.
10. Tour Las Vegas by Helicopter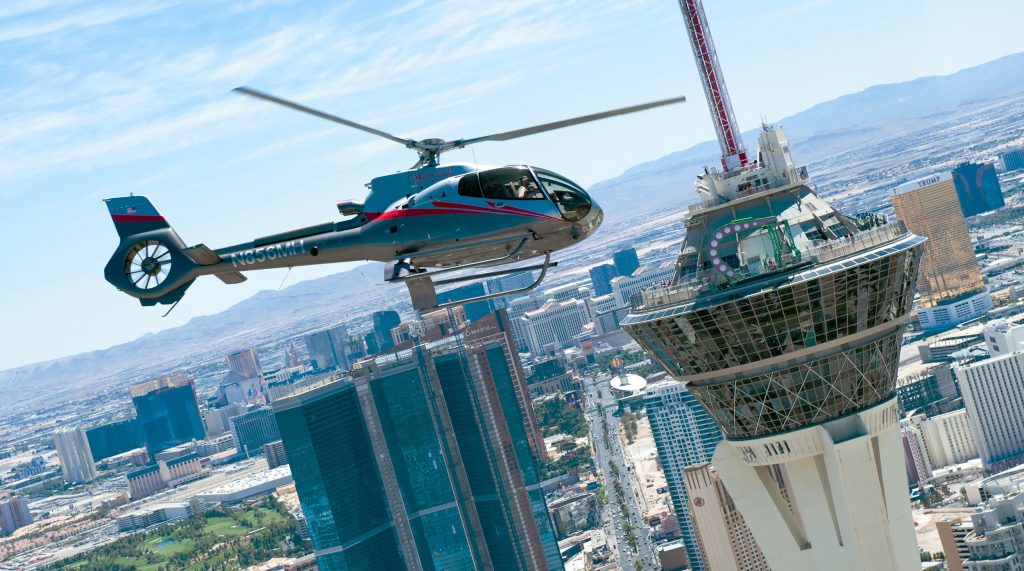 If you want a panoramic view of Las Vegas, consider a helicopter tour. Maybe you're a high roller and want the perfect atmosphere to pop the question. A helicopter tour of the city lights can be very romantic after dining in one of Las Vegas's best restaurants. You might also find that a tour by day lets you view the full Las Vegas Strip and other notable landmarks like the Hoover Dam, Mojave Desert and the Grand Canyon.
Typical tours and prices might include:
Conclusion
With so many ways to get around Las Vegas, you might have a hard time choosing just one. Choose your mode of transportation based on factors like the weather and how long you'll be in Las Vegas. On hotter days, a bus tour, Deuce bus ride or the monorail can give you a chance to rest and cool down. And, you can enjoy an indoor activity like Vegas indoor skydiving. When it's a bit cooler, take the kids on the pink Jeep tour and for a thrilling roller coaster ride. Hire a driver or book a helicopter to see the sedimentary rock formations or the neon boneyard museum. And, don't forget the exhilarating shark reef exhibit at the Mandalay Bay where you can dive with the sharks and feed them. With so much to do in Sin City, take a "bite" out of all that Las Vegas has to offer!
ENTER THE SWING KING $100,000 "HOLE IN ONE" GOLF CONTEST
Have you ever hit a hole in one? Want to try? You can sign up now for the Hole in One Contest and win cash prizes as high as $100,000? If you've heard about the HIO Contest or saw a Swing King Contest ad, here's what you need to know. Maybe you'll be the next Swing King and have a featured video. Now's your chance to find out. The "Hole in One" contest is ongoing and powered by the "Swing King" system. See the Official Terms and Conditions here.
SIGN UP NOW FOR YOUR CHANCE TO WIN UP TO $100,000
Your entry into the Hole in One (HIO) contest makes you eligible for the following prizes:
$5 entry fee for up to a $10,000 prize
$10 entry fee for up to a $20,000 prize
$20 entry fee for up to a $50,000 prize
$40 entry fee for up to a $100,000 prize
90 winners have already won cash prizes. See videos of winners and their winning shots here.
SIGN UP FOR THE SWING KING CONTEST
The contest is offered at Chimera Golf Course and the rules are easy. Once you book a tee time through the Chimera Golf Course website, you will be redirected to a link for Swing Kings where you can enter the contest. Good luck!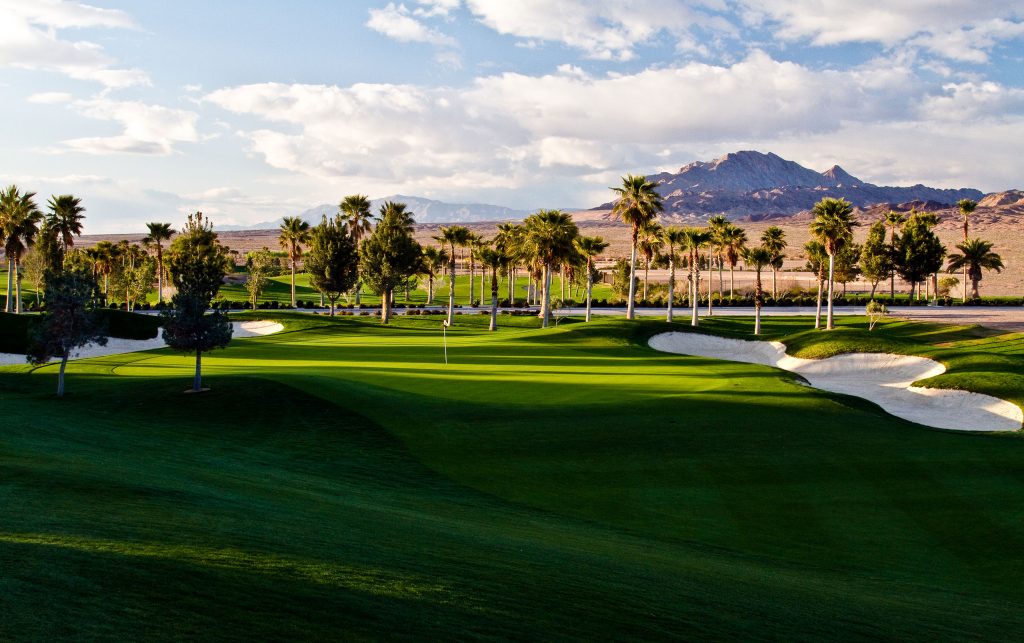 ABOUT CHIMERA GOLF COURSE
Chimera Golf Course is located in Henderson, Nevada. Designed by Ted Robinson, Jr. in 2003, it sits on 6,906 yards. With forgiving fairways in a playable desert landscape, it offers challenges from any tee. Players can enjoy other activities that include foot golf, golfboards and a bite to eat at Slice 19. With unparalleled views of the Las Vegas Strip, book your next tee time at Chimera Golf Club today!