It's often been said that the grass is always greener on the other side. However, when it comes to golf courses, the grass is usually greener on courses that are reseeded or over-seeded. Reseeding usually takes place in the cooler months from September through November. Seasoned players know that reseeding is often a time of brief course closures, cart path only rules and moist green conditions. However, if you're new to golf or planning a golf vacation, you might not know that reseeding takes place during these times. Some courses will offer course fees that are slightly reduced during this time or they might close briefly for scheduled maintenance. Hence, you don't want to schedule your golf trip during the time the golf staff are reseeding the course.
Here's all you need to know about reseeding and why it's necessary.
Note: Think you've got what it takes to make a hole-in-one? Enter Swing King's $100,000 Hole in One Golf Contest. See the details near the article's end.
Why Reseeding is Required
"It's a necessary evil." Anonymous
There are usually three kinds of golf: great golf, bad golf and no golf. Reseeding ensures there's always great golf. When a course isn't reseeded, it's brown and bouncy. Hence, it's bad golf. However, during the brief closure, there might be no golf while seeds germinate for new grass. That no golf part is what players don't want to think about, especially in warmer climates like Las Vegas where they're used to golf year-round.
Reseeding is often looked at as a necessary evil to help keep courses green. This differs from areas that have snow where players are used to courses closing in the winter. With warmer climates, the grass will still go dormant in the winter as the temperatures drop. If left alone, the grass will dry up and become unappealing. It's also hard to play on because it becomes frayed and coarse.
Before a course is reseeded, course staff will note that the ground is firmer and the greens are a bit bumpier. However, to maintain a course's green look year-round, reseeding is required. For arid areas like Las Vegas, this is especially important as the greens can't survive year-round without these necessary steps.
Reseeding for some courses will include a time when they put down ryegrass seeds. This is required in tee boxes, fairways and greens as the grass is about to go into a dormant stage. Las Vegas grass, for example, might be mostly Bermuda and its dormancy takes place when temperatures start to drop below 60-degrees. Hence, the time from September to October is when most reseeding starts.
The Reseeding Process
"Let the booing commence" – Anonymous
Grounds staff will know when to start reseeding because the grass turns a slight brown color and becomes unsightly.
Days 1 – 4
During this time, the course superintendent might intentionally stop watering the grass to speed up its dormancy. This is a process referred to as scalping as the course dries out and the grass is thinned by removing its canopy material. This is done from day one until about day four and it helps to prepare the seedbed.
The course is closed during this time for about a week to start the overseeding process. It's likely the booing will start when players realize the course might be closed anywhere from one week to three weeks or longer. Again, a necessary evil but the focus is on the fairway's health in the winter.
The schedule might also vary based on the temperature as the superintendent has to wait for the right temperature and climate for germination to begin.
Days 5 – 7 and beyond
During the reseeding, the staff will spread large amounts of seeds precisely throughout the course. They need the right soil to seed contact, limited external stress and lots of moisture. The time following the seed distribution is specifically for watering. The seeds are drenched heavily with sprinklers making the canopy extremely damp but the seeds aren't moved out of place.
This overseeding process can help the seeds to germinate and grow in the ground as the area stays wet. The course is continuously watered to ensure the seeds take root. If the seeds don't, it can be an expensive process as the course will need to remain closed and the staff have to start the process again.
Reseeding Benefits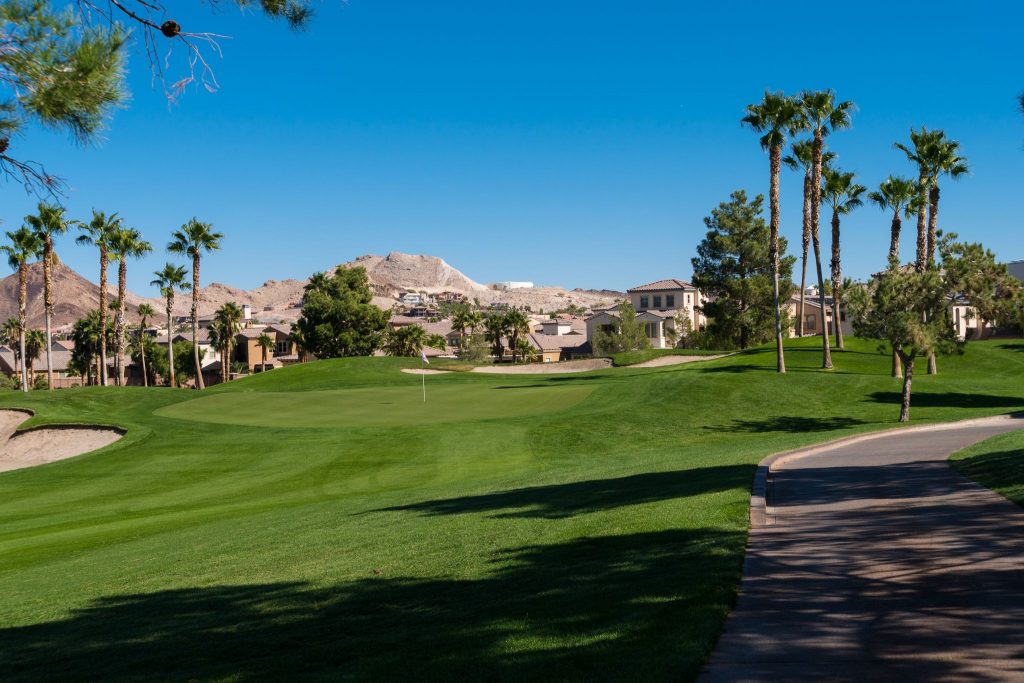 "A good golfer has the determination to win and the patience to wait for the breaks," Gary Player
Because no one wants to play on a dry course, reseeding is required as part of the course's routine upkeep. Reseeding provides several benefits that can help players.
These include:
Reseeding ensures a more quality course especially during the colder periods in Las Vegas
Reseeding provides a picturesque and healthy pure green course
Reseeding means a course is guaranteed to have a better playing area in the next season
Reseeding prevents a course from becoming brown (that no one wants to play on)
Cart Path Only: When the Course Reopens
When the course reopens, players are instructed to stay on designated cart paths. This may be required for up to 6 weeks depending on the course. The seeds might have germinated but they are still fragile and quite weak. Hence, any walking or driving over them can cause unnecessary stress.
While driving only on cart paths can be a nuisance, a few simple tips can help. If the cart path is to the left, hit your ball in that direction to avoid walking much further for your shots. However, it's okay to wish for your opponent to slice during this time as he will have to walk much longer for his.
Hitting from the Tees and Putting
"The most important shot in golf is the next one," Ben Hogan
Reseeding is an intricate process that requires attention to detail. With proper watering, germination and time, the groundskeepers can create a healthy green course. And, players won't mind the temporary golf-cart only signs.
It's recommended that players that are hitting from the tees to the green switch to irons and wedges as these will provide less bounce. The effect after overseeding is a lush fairway that doesn't have a lot of give, so there's little roll in the ball. Another option is to use a driver that provides the most carry as possible.
When it comes to putting, golfers may need to use putters that give them a bit more loft so it's easier for the ball to roll. Golfers that don't choose this route will find that they don't have as much break as before the reseeding.
For golfers that aren't able to make these adjustments, expect that playing after reseeding might take off:
2 to 3 shots for 6-10 handicaps
7 to 8 shots for 11-20 handicaps
10 shots for 20+ handicaps
Planning Your Golf Vacation
To help ensure you don't plan your golf trip when the superintendent is reseeding the course, you can call ahead or check the course's website. Ask when they are reseeding during September and October and ask for the course closure dates. The course's staff can tell you the maintenance schedule so you can avoid scheduling your trip around these dates.
Ask specifically about the reseeding dates because you don't want to come in when the course is super dry and bouncy. You also don't want to be met with soggy grass that's over-watered. However, knowing that the course will have a lush fairway in the winter months can truly make for a better vacation.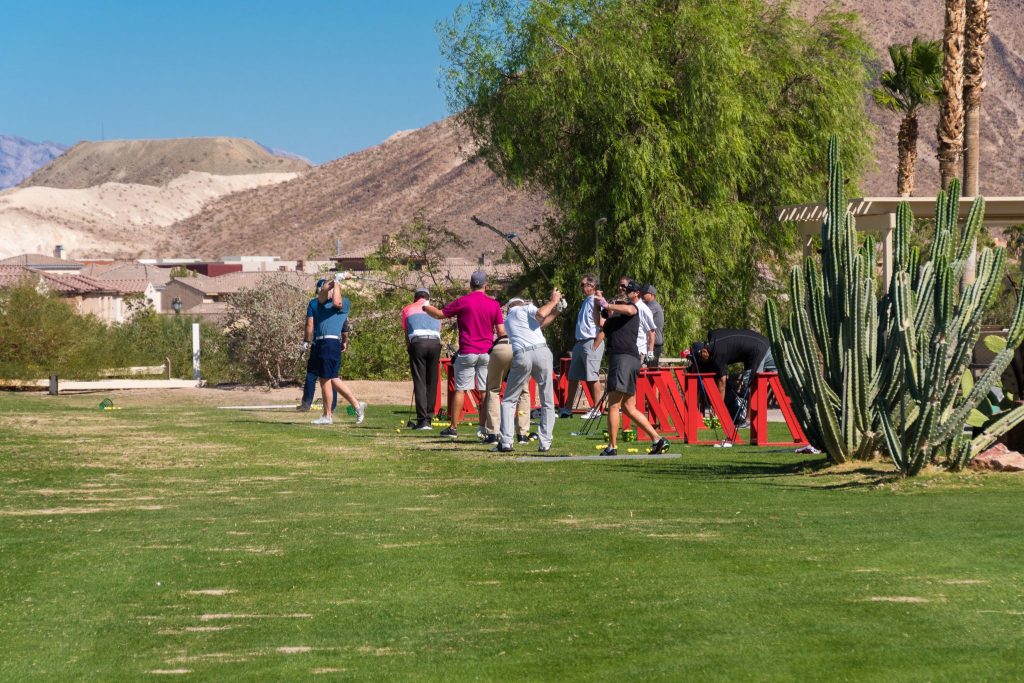 ENTER THE SWING KING $100,000 "HOLE IN ONE" GOLF CONTEST
Ready to up your golf game? Think you can hit a hole in one? If you're ready for your chance at big money prizes, now's your chance to sign up for Swing King's Hole in One Contest. You can win cash prizes with the top prize of $100,000.
Maybe you've heard about the Swing King contest or saw one of the HIO Contest ads. You might be the next Swing King who gets to display a featured video of your winning shot. Here's all you need to know to enter and win.
The "Hole in One" contest is an ongoing contest. It's powered by the "Swing King" system. Click here for the Official Terms and Conditions here.
Do you want to enter the contest but have never hit a hole-in-one? Here are a few helpful tips on how to hit a hole in one.
SWING KING: BE THE ONE TO WIN UP TO $100,000
Your entry into the Hole in One (HIO) contest makes you eligible for the following prizes:
$5 entry fee for up to a $10,000 prize
$10 entry fee for up to a $20,000 prize
$20 entry fee for up to a $50,000 prize
$40 entry fee for up to a $100,000 prize
Every month, dozens of winners sign-up and receive their cash prizes. See videos of winners and their winning shots here.
SIGN UP FOR THE SWING KING CONTEST
The contest is offered at Chimera Golf Course and the rules are easy. Once you book a tee time through the Chimera Golf Course website, you will be redirected to a link for Swing Kings where you can enter the contest. Good luck!
CHIMERA GOLF COURSE – A BEAUTIFUL GOLFING OASIS IN THE DESERT
Chimera Golf Course is located in Henderson, Nevada. Designed by Ted Robinson, Jr. in 2003, it sits on 6,906 yards. With forgiving fairways in a playable desert landscape, it offers a fair number of challenges from any set of tees. From its unparalleled mountain views to its natural terrain, the Chimera Golf course is an incredible place to enjoy golf. Warm-up at the driving range and enjoy picturesque views of the Las Vegas Strip with snow-capped Mount Charleston in the backdrop. Book your next tee time at Chimera Golf Club today!
Players can enjoy other fun activities at Chimera Golf Course. Kick it into high gear with footgolf, one of the coolest sports that combines golf and soccer. It's available for all ages. Players can also zip through the course on fun golfboards that resemble a skateboard and an electric scooter.
Ready to grab a bite to eat? After a fun round of golf, it's time to head to Slice 19 Bar and Grill. Order by phone at (702) 932-5311 or online at slice19.com. Want the best golf tournament and game day food? How about yummy pretzel bites, burgers, wings and quesadillas? Or, what about tasty nachos, pizza, subs and sliders? Order in and have Slice 19 delivered!