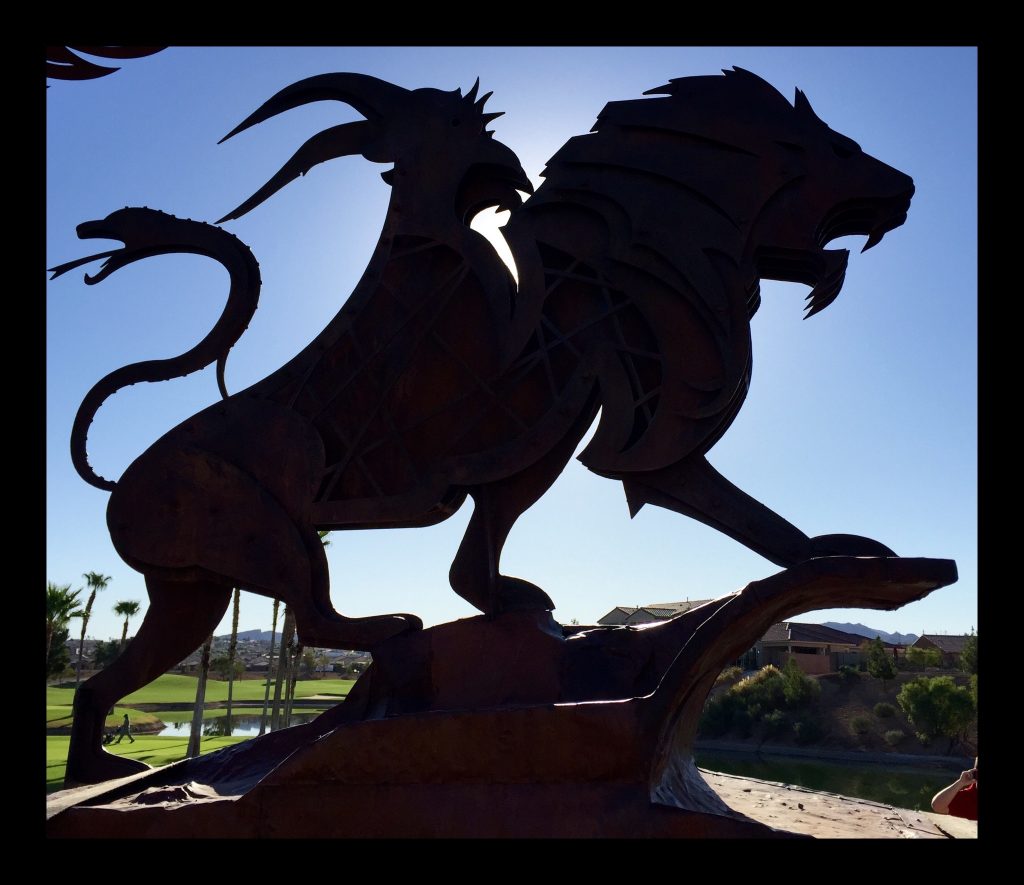 HENDERSON, NV – 10/12/2015 (PRESS RELEASE JET) — Henderson Nevada's Chimera Golf Club, located at 901 Olivia Pkwy, Henderson, NV 89011 announces their multiple upcoming Grand Opening events this month.
The events start with the "Grand Opening Outing," a double shotgun tournament to be held Saturday, October 17th. The course is in prime condition as it has just completed over seed. Tee times are 7:00 AM & 1:30 PM. There will be free food and drinks provided by local vendors and contests on the golf course.
Next, the Golf Club will have a ribbon cutting ceremony at the course and an official unveiling of their signature 6 foot tall Chimera statue. Henderson Mayor, Andy Hafen and other City of Henderson dignitaries will be in attendance. The statue of the mythical creature, along with a coordinating statue of Pegasus, were created by local artist Ramon Sanchez, whose creations are viewed along the Interstate 15 and at the Springs Preserve.
Chimera Golf Club will be featured by RCH Racing at the biggest Supercross race in history, which will be held in Las Vegas on October 17th. RCH Racing is a professional Supercross and Motocross team co-owned by Ricky Carmichael and Carey Hart.
Formerly known as Tuscany Golf Club, the course was purchased by entrepreneur Thomas Burke, CEO/Owner of TCompanies, Inc. Renamed Chimera Golf Club, the new owner has brought multiple improvements to the property including:
Two fourteen foot high by forty foot wide water fountains beautifying the lakes.
GPS digital caddies have been added to the golf carts and cool new Hummer and Cadillac models are now available.
The Chimera Bar and Grill has been redecorated, has a new menu and is becoming a popular location for football watching.
Soon a new Pizza Oven will be installed.
Gourmet coffee beverages will be available from a new Synesso Espresso machine, and call ahead service will be in place for Tuscany Village residents.
Happy hour is now daily at the Bar and Grill with appetizer and drink specials from 3:00 pm to 5:00 pm.
The Pro Shop has been restocked with all new Chimera logo apparel.
TaylorMade products are now in the golf shop along with TaylorMade custom fittings.
About Chimera Golf Club
Located within the Tuscany Village community of Henderson Nevada, Chimera Golf Club is a Ted Robinson designed golf course, Bar and Grill. The course provides a stimulating game for golfers of all abilities and has a rewards program for locals. Guests enjoy unparalleled views of the Las Vegas Strip, and spectacular mountain ranges. The property's beautiful water features, picturesque desert terrain and superb guest service makes Chimera Golf Club an inviting destination for parties, weddings, and special events too.
Chimera pronounced "ki-meer-uh" was a mythological, fire-breathing monster, represented with the body and head of a female lion, a goat's head rising from its back, and a serpent for a tail. Chimera is a synonym for infinite imagination, passion, and creativity, while it also symbolizes one's pursuit of what seems unattainable or elusive ("to chase Chimeras"). The illusion and the mirage of this special oasis created to fight the desert's heat and sun lead to the naming of the course, "Chimera."
For more information visit the property's website: https://www.chimeragolfclub.com/golf
Media Contact
Company Name: Chimera Golf Club
Name: Tom Burke
Phone: (612) 209-6514
Email Address: TBurke@TCompanies.com
Website: https://www.chimeragolfclub.com