Las Vegas is all about location. With over 70 golf courses and 13 of the biggest hotels in or around Las Vegas, you'll have your choice of hotels, casinos, and courses in Sin City. You might pick a course based on golfing preferences like course design, location, and budget. However, another option is to find the amenities that appeal to you first. Remember, Las Vegas is an adult playground. With hotel suites including glass-enclosed pools, private bowling alleys, your own pool table, and weekend butler service, you might have a hard time deciding.
Here are a few ways to choose the best Las Vegas golf vacation.
Note: Don't miss your chance at Swing King's $100,000 Hole in One Golf Contest. See the details near the article's end.
CHOOSE YOUR COURSE BASED ON YOUR GOLFING PREFERENCES
A great way to select a course is to consider the type of golf course you want to play on. They all have beautiful locations and picturesque views. However, every course has different degrees of difficulty, price ranges and designers.
Here are a few ways to narrow down your decision.
Select Your Course Based on Your Price Range.
How expensive is golf in Las Vegas? Some courses will charge $300 to $500 for green fees. However, if you want to stay in a flexible range (so you'll have more spending money for dining and entertainment), explore the Stay-and-Play golf packages and value-based courses.
Value-Seeker Courses
Value-seeker courses are wallet-friendly and a favorite among golfers. These are usually public courses and a round of golf might run less than $100. To find these deals, shop online. Look for deals on twilight play for about $80 or deals in the off-season and during weekdays.
Stay-and-Play Packages
If you want to take a swing at a Stay-and-Play package, these are convenient and affordable. They might include the hotel stay, equipment rentals and green fees. Inclusions will vary by course and package.
With a Stay-and-Play package from Chimera Golf Club, you can book the Westin Lake Las Vegas Resort & Spa located in Henderson, Nevada. Take 25% off their best available rate so you can enjoy g Aveda Spa Lago and Marssa Steak and Sushi Restaurant. There's also a full fitness studio, Nuala pool and private cabanas.
Select a Course Based on its Location.
If you want to play golf on more than one course, select your hotel based on its proximity to other courses. The Hilton Lake Las Vegas Resort and Spa is located in Henderson, Nevada and about 20 miles from the Strip. It's adjacent to a few different Jack Nicklaus courses as well as Chimera Golf Course, a course designed by Ted Robinson, Jr.
Select a Course Off the Strip
Some of the best courses off the Strip offer cheaper prices, lush fairways and have excellent turf conditions. While a few courses have challenging holes because of the rolling hills and valleys. A Jay Morrish and David Druzisky designed-course in Henderson includes deep fairway bunkers and desert washes.
Select a Course Near the Strip
Another option is to explore courses near the Strip. Some of the courses are only about 15 to 20 miles from downtown Las Vegas and are among the best-designed courses and the most affordable in the city.
Select a Course Based on its Difficulty.
Another way to plan your vacation is by selecting a course based on the degree of difficulty. A few courses in beautiful Henderson, Nevada will make you wish you'd brought all your wedges as par-4s are more like par-5s.
A Jack Nicklaus designed-course includes steep topography that can challenge even the best of golfers. Holes with 100-foot elevation changes aren't for the faint of heart. Expert tactical bunkering and slight changes in elevation can prove tricky for novice golfers.
Some courses include sand near the fairways on lake holes making them twice as challenging. A couple of the Pete Dye courses are designed with both sod and water-facing bunkers. These are interchangeable and made to test approaching shots.
Other courses have strategically placed bunkers to help compliment the rocky terrain. A South Pacific style, Brian Curley and Lee Schmidt designed-course resembles an oasis with its island-green theme and tropical plants.
Select a Course Based on the Number of Holes or Designer.
If you're interested in courses with more than 18-holes, a few include 27-, 36-, 48- or 54-holes. Green fees will vary.
Las Vegas has 36-hole courses that include two separate 7,000 yards, 18-hole courses. Course designers include Tom Fazio, Pete Dye, Tom Weiskopf, Jack Nicklaus, Bill Casper and Greg Nash. The courses will have varying degrees of difficulty to help you work on your short- or long-game. A course with 48-holes includes two separate 18-hole courses and a 12-hole course. The 12-hole course has famous par-3 replicas and 9-holes for twilight play.
A 54-hole course might include three 18-hole courses. With plenty of risk-reward holes and challenging island-greens, these can keep you so busy during your vacation you forget to check out the Las Vegas Strip!
Select a Course Based on its Luxury Amenities.
Las Vegas has a lot of entertainment options so expect a few courses to include exclusive amenities. Courses might include complementary practice areas and double-ended driving ranges. Others might have lush practice putting greens and extensive short game areas.
Driving ranges can include perks like a bar, lounge, big-screen TVs and private cabanas. With hitting bays, private lessons and Callaway fitting stations, extending your distance might not be the only thing you work on. You might also want to extend your Vegas vacation.
Because there are about 70 golf courses located in and around Las Vegas, it might be hard selecting just one course to play on. A thought is to play on a different course each day and schedule a return visit for the courses you can't get to. Now, that's a bucket list!
Next, let's take a look at another way to choose a golf course for your vacation – by selecting the location, amenities and/or attractions first.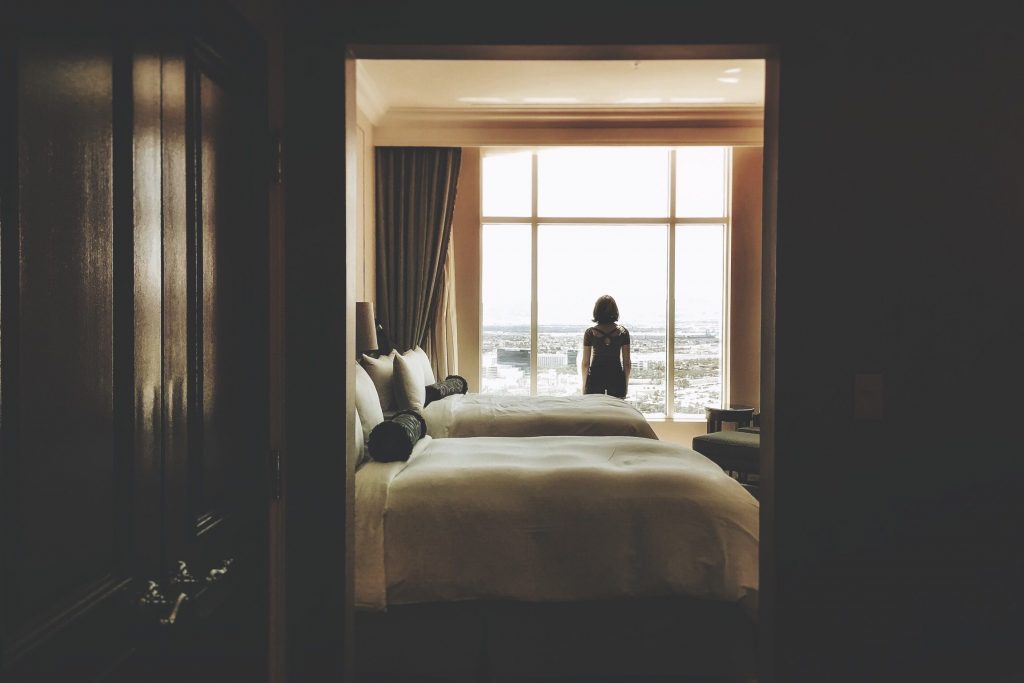 CHOOSE YOUR VACATION AMENITIES AND ENTERTAINMENT PREFERENCES FIRST AND THEN SELECT A COURSE
When planning a Las Vegas golf vacation, sometimes it helps to start with the room-type and proximity to area attractions. This can ensure you have the best amenities, restaurants and entertainment. Not only can you take an Uber or taxi to a golf course but you can check out different courses.
Here are a few ideas for booking your stay with entertainment and amenities first.
Think About Your Budget.
Rooms in Las Vegas are very affordable including at the bigger hotels. Hotel owners know you can stay anywhere and they want you to stay – and play with them. A room at the Venetian or the Palazzo might be $149 per night with $100 in available resort credits. Hotels like the renovated Tropicana are under $100.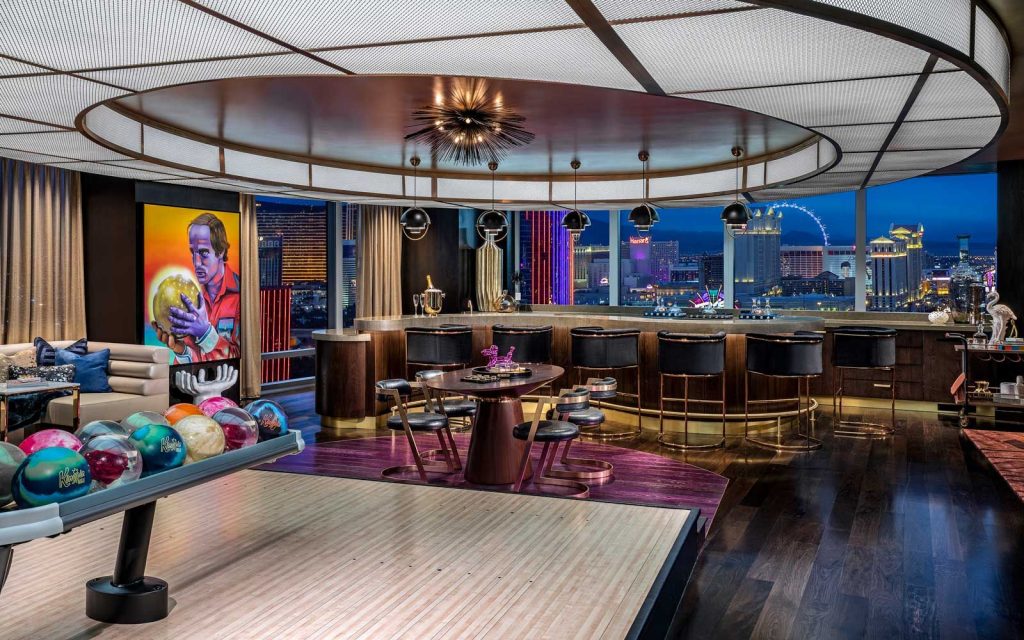 Luxury Rooms and Suites
Do you want the conveniences of a suite? What about a pool, spa, and casino? You might want to book a resort spa and casino hotel. Luxury hotels include suites and penthouses that put the "wow" factor in Vegas.
A few examples include:
The Hard Rock Hotel's Real World Suite includes a private bowling alley and pool table.
The Palms Sky Villa is 9,000-square-feet, two-stories and includes a glass-enclosed pool and glass-enclosed elevator. Other perks include roundtrip SUV transportation and weekend butler service.
Nobu Hotel's Penthouse with Japanese decor includes a private pool table, a 90-inch TV and private pool access.
Other hotels to explore include the Bellagio, the Venetian, the MGM Grand, the Mandalay Bay's tower rooms and Caesars Palace.
Budget Rooms
If you'd prefer a budget hotel, there are plenty of options. Some golfers will skimp on the hotel frills because they'd rather play big on a luxury golf course or in the casino.
Hotel options include:
Harrahs
The Riviera
The Tropicana
The Flamingo
Consider Booking a Hotel with a Golf Course On-Site.
Another option is to find a hotel near the course you want to play. You can also stay at a resort hotel with a golf course. For example, with a resort that includes a golf course, you can then decide if you want to play at that particular course.
A few options include:
The Marriott Las Vegas Resort and Spa
Hilton Lake Las Vegas Resort and Spa
The Westin Lake Las Vegas Resort and Spa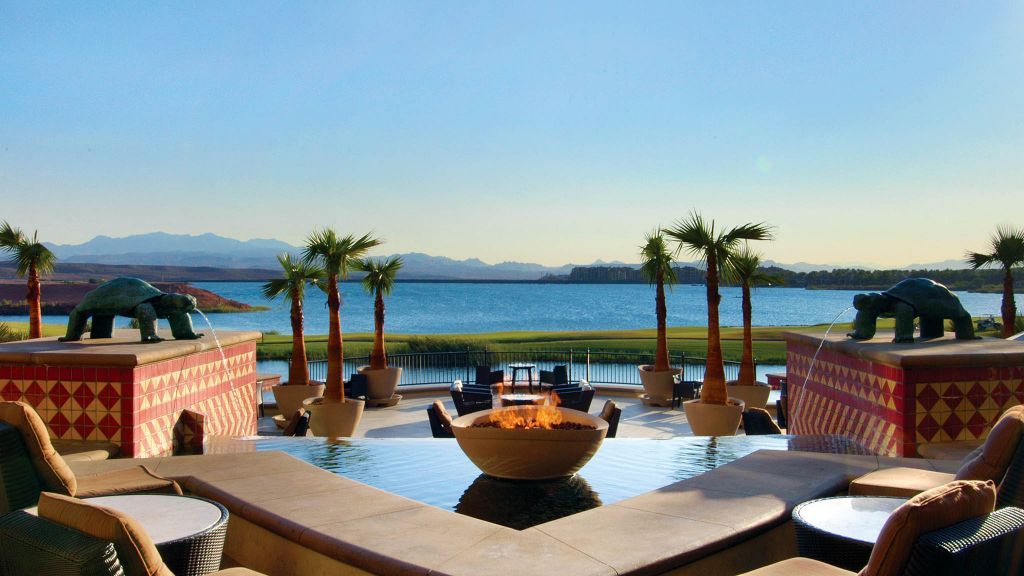 Think About the Amenities You Want.
Some golfers book their vacation based on amenities their family wants. Meaning, if your family wants a big outdoor pool, check out the resort hotels that have pools first. For example, if you have small children, book a hotel with a kiddie pool and plenty of activities for small children. Then look for nearby courses.
Consider Your Proximity to Nightlife.
Las Vegas has all kinds of clubs, lounges and shows. There are stage performers, acrobats and musicians. You can take in a live show, a Cabaret act or listen to the Golden Oldies or Motown Favorites. Check out your favorite country or rock performers or take in a comedy show or musical.
To plan your trip around an event like a show, do an online search with the words, "Las Vegas Shows November", for example. Top shows might include Lady Gaga, Madonna, Guns n' Roses, Jerry Seinfeld and Ray Romano.
You can also think about your hotel's proximity to the Las Vegas nightlife. When you book a hotel like the Palazzo or Venetian, for example, they're adjacent to the Wynn/Encore Hotel and connected with a pedestrian bridge. Hotels that are "business-friendly" cater to tourists and business travelers that want everything within walking distance.
Consider How Much Gambling You'll Do – And the Comps You Want.
Depending on your hotel, they might give you casino comps. For example, if your hotel costs $150 per night, you might receive $100 comp money to gamble in the casino. That's free money to use on slots and table games in the form of a voucher. However, if you're not staying at the hotel, you'll have to set up a membership card with a casino to start earning comps.
Casino comps can be used as money in the casino, for buffets and restaurants on the casino's property. The more you gamble at a casino hotel and use their rewards card during your gameplay, the more it can lead to perks like a suite upgrade. You might be able to upgrade from a standard room to a suite.
Consider Shopping and Nearby Restaurants.
If you're big on shopping and dining out, select your hotel based on it's proximity to stores and restaurants. If you're staying at the Wynn/Encore, the Palazzo or the Venetian, you'll have convenient access to about 50 different restaurants. Some of the restaurants in that general area are gourmet and Michelin star rated.
Shops to consider include:
The Malls at Caesars Palace which are interconnected
Crystals at the CityCenter which includes several high-end stores
Fashion Show Mall across the street from the Wynn
Stores along the walkway of the Wynn and Bellagio
Mandalay Place located at Mandalay Bay and adjacent to the Luxor Hotel
Miracle Mile Shops located at Planet Hollywood Resort Hotel and Casino
The Grand Canal Shoppes at the Venetian and the Palazzo
Consider the Attractions.
Another option is to consider the area attractions. For example, let's say you're staying at the Venetian because your family wants to enjoy the sights. The Venetian includes gondola rides on the property and rooms are about 700-square-feet.
Pick a hotel like the Bellagio and view the Fountains by day and light show at night. There's also the Bellagio Conservatory and Botanical Gardens. In the lobby, don't miss the Dale Chihuly exhibit. He's the glassblower who creates those massive glass chandeliers in exotic colors.
Other attractions to explore include:
The Fremont Street Experience
The Las Vegas Strip
Paris Las Vegas
The High-Roller Ferris Wheel
Adventure Dome Theme Park
The Pinball Hall of Fame
The Stratosphere Roller Coaster
The Shark Reef at Mandalay Bay
The Las Vegas Motorway
The Hoover Dam
The Grand Canyon
HAVE THE BEST TIME IN LAS VEGAS – EVERY TIME
Ultimately, whether you choose your golf course first or your amenities and proximity to entertainment, restaurants and attractions, there's so much to do and see. Keep in mind, you can't take it all in at once. So, schedule a second or third trip – and have the best time in Las Vegas every time you visit!
Now, let's take a look at Swing King's Hole-in-One Competition for your chance at a $100,000 prize.
ENTER THE SWING KING $100,000 "HOLE IN ONE" GOLF CONTEST
Have you ever hit a hole in one? Want to try? You can sign up now for the Hole in One Contest and win cash prizes as high as $100,000? If you've heard about the HIO Contest or saw a Swing King Contest ad, here's what you need to know. Maybe you'll be the next Swing King and have a featured video. Now's your chance to find out. The "Hole in One" contest is ongoing and powered by the "Swing King" system. See the Official Terms and Conditions here.
SIGN UP NOW FOR YOUR CHANCE TO WIN UP TO $100,000
Your entry into the Hole in One (HIO) contest makes you eligible for the following prizes:
$5 entry fee for up to a $10,000 prize
$10 entry fee for up to a $20,000 prize
$20 entry fee for up to a $50,000 prize
$40 entry fee for up to a $100,000 prize
90 winners have already won cash prizes. See videos of winners and their winning shots here.
SIGN UP FOR THE SWING KING CONTEST
The contest is offered at Chimera Golf Course and the rules are easy. Once you book a tee time through the Chimera Golf Course website, you will be redirected to a link for Swing Kings where you can enter the contest. Good luck!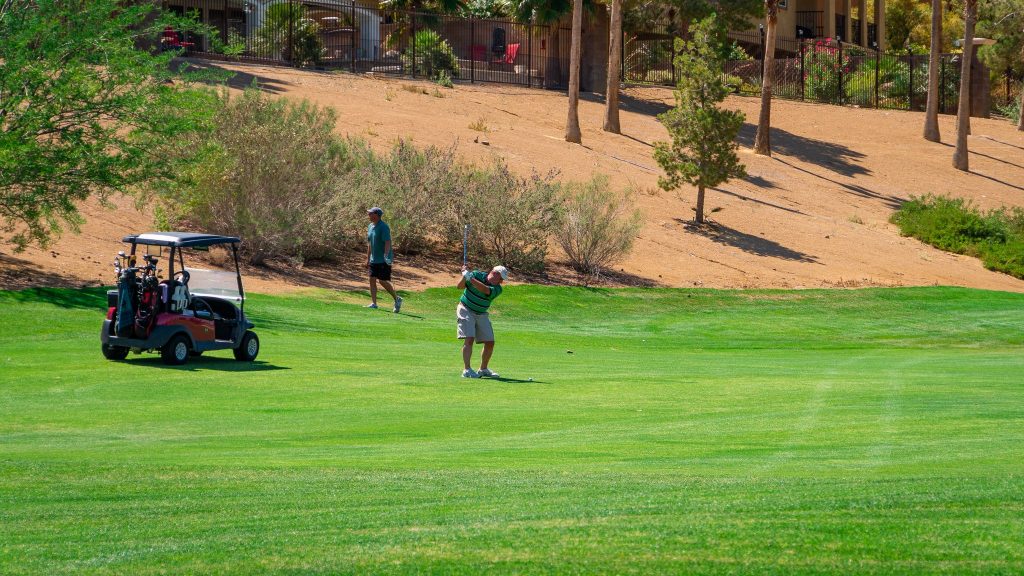 ABOUT CHIMERA GOLF COURSE
Chimera Golf Course is located in Henderson, Nevada. Designed by Ted Robinson, Jr. in 2003, it sits on 6,906 yards. With forgiving fairways in a playable desert landscape, it offers challenges from any tee. Players can enjoy other activities that include footgolf, golfboards and a bite to eat at Slice 19. With unparalleled views of the Las Vegas Strip, book your next tee time at Chimera Golf Club today!