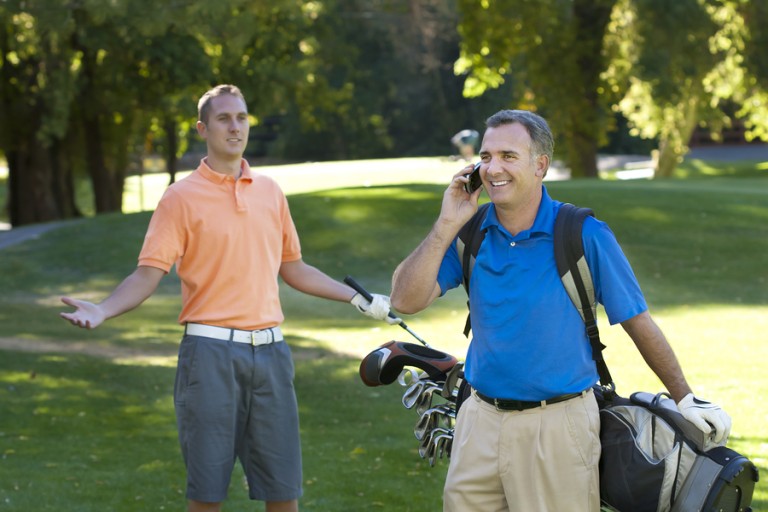 So, you are new to golf and would like to make a good impression on the course at Chimera Golf Club in Henderson, Nevada. Before you worry about perfecting that backswing, or what clubs the pros are playing, it is important to learn some basic golf course etiquette. Many people who are new to the world of golf make common mistakes that may be overlooked by veteran golfers, but some behavior is seen as disrespectful.
Thankfully, most people who are newcomers welcome corrections and helpful advice. Proper golf course etiquette keeps the game enjoyable, welcoming for all, and it also protects the integrity of the game. Using proper etiquette will also earn you respect from the more experienced players. For those who are still learning, here are the top mistakes made by new golfers.
Showing Up Late for a Tee Time
Tee times are scheduled for a reason. There are few offenses that are less forgivable than arriving late to a scheduled tee time. It is best to arrive early so that you can start your round as close to your scheduled time as possible. Getting to the course early gives you the chance to warm up and ready yourself for a great day. This is also an opportunity to improve your game. If you are late, you might not get to play at all, so be sure to always arrive on time.
Losing Your Patience
Some days are just perfect for golf. On these days, the course can get pretty crowded, and you might find yourself stuck behind a slower group. If you do come upon a group that is a little slower than yourself, be patient and respectfully ask that the group allows you to play through if there is room ahead them on the course. Most golfers respect the pace of play and will gladly allow you to play through. If the group declines, you must still remain patient. Keeping that in mind, be sure to give all players their space as well. Nobody wants another person breathing down their neck as they are playing. If the problem persists, make a call to the clubhouse for assistance from the golf staff to resolve the situation.
Distracting Others
An additional rule of golf is that you should try to not be distracting while another person is playing a shot. Most golfers prefer silence and stillness as they swing. Being quiet and respectful of others is a quick way to improve your golf course etiquette.
There is much more to golf etiquette, but these are a few mistakes made by people new to the game. For additional help on learning the etiquette of the game feel free to talk to our friendly golf staff in the clubhouse. By following these simple rules of etiquette on the course, you will soon gain the respect of others and truly appreciate the game for what it is. Now it is time for the really hard part, getting better at the game!