Las Vegas activities you can enjoy. The city is known as the Entertainment Capital of the World for a reason. From shopping and live shows to tours and great dining, there's plenty to do and see in Sin City. Las Vegas, which is Spanish for "The Meadows" saw just over 42 million visitors last year. Not everyone that visits Las Vegas is there for the casinos. Some people travel to Las Vegas for conferences or conventions. They might be in Las Vegas for sightseeing tours of the Grand Canyon, bridal or bachelor parties or to play a few rounds of golf!
Here are a few fun things to do in Las Vegas besides the casino action.
Shopping
Want to Get in a Little Retail Therapy? If you want to know where to shop in Las Vegas, you might have a hard time choosing one location. The City of Lights has a host of shops on Las Vegas Boulevard.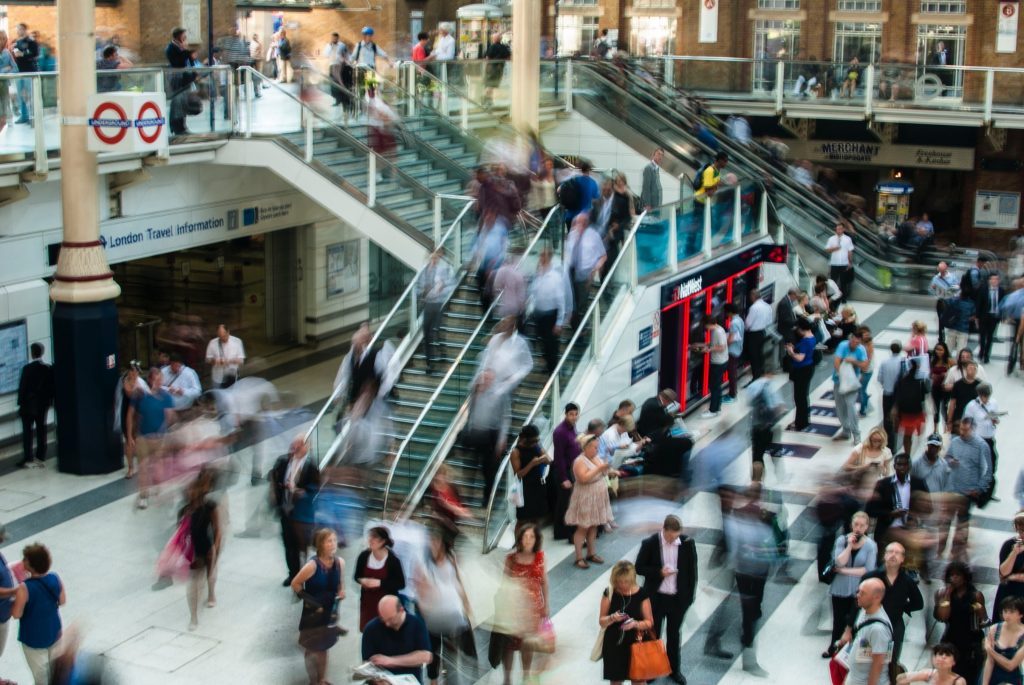 Here are a few Las Vegas shopping malls and plazas:
The Fashion Show is located at the top end of the Strip. With 250 stores, 25 eateries and 8 major department stores, you might need a map. Great places to shop at include 7 For All Mankind, A&F, Amazon Pop Up, Clarks, Coach, Davidoff, Diesel, The Disney Store and more.
A few eateries include The Capital Grille, Jamba Juice, Grimaldi's Brick Oven Pizza, and the Habit Burger Grill.
Address: 3200 Las Vegas Boulevard. Hours 10:00 am to 9:00 pm.
Located in Caesars Palace, the shopping is high-end fashions with brands like Gucci, Christian Louboutin, Louis Vuitton, Tiffany, Tumi, Henri Bendel and David Yurman. There are 160 stores to explore in an architecturally-designed area that resembles something out of the Roman Empire. With massive statues, marble walkways and enormous waterfalls, every level is more luxurious than the next.
Aside from clothing stores, you'll find that the Forum Shops include quite a number of eateries and restaurants. Eateries include: The Cheesecake Factory, Sushi Roku, The Palm, Smoked Burgers and BBQ and Planet Hollywood Restaurant.
Note: Bring your camera so you can take pictures of the gigantic fish aquarium. The Fall of Atlantis is an animatronic show in a 50,000-gallon tank. It's a great way to pass the time in between shops and before heading to a show.
Address: 3500 Las Vegas Boulevard. Hours: 10:00 am to 11:00 pm.
Located at Planet Hollywood, Miracle Mile Shops has affordable fashions like Aldo, Alex & Ani, Bath & Body Works, Champs Sports, Loft, Lululemon, Mac and more.
Getting hungry? You'll find Chipotle, Oyster Bay Seafood & Wine Bar, Sbarro Pizza, Ben & Jerry's, Ocean One Bar & Grille and other eateries.
Address: 3663 Las Vegas Boulevard. Hours: 10:00 am to 11:00 pm.
The Shops at Crystals has 50 of the best brands in the world. With stunning architecture, it's a great place to find luxury retail fashions. Stores include Balenciaga, Bulgari, Cartier, Dior, Dolce & Gabana, Gucci, Harry Winston, Hermes and more.
Up for a bite to eat? Go to the main entrance near ARIA for the restaurants. Head to Cucina by Wolfgang Puck. Or, for a seafood lover's treat, visit Mastro's Ocean Club.
Address: 3720 S. Las Vegas Boulevard. Hours: 10:00 am to 11:00 pm.
Shows (Free)
Looking for a free activity in Las Vegas? From light shows to water shows, here are a few free attractions that are family-friendly and for all age groups. Note: The light show requires looking up for 6-minutes and this may not be best for anyone with neck pain or a cervical condition.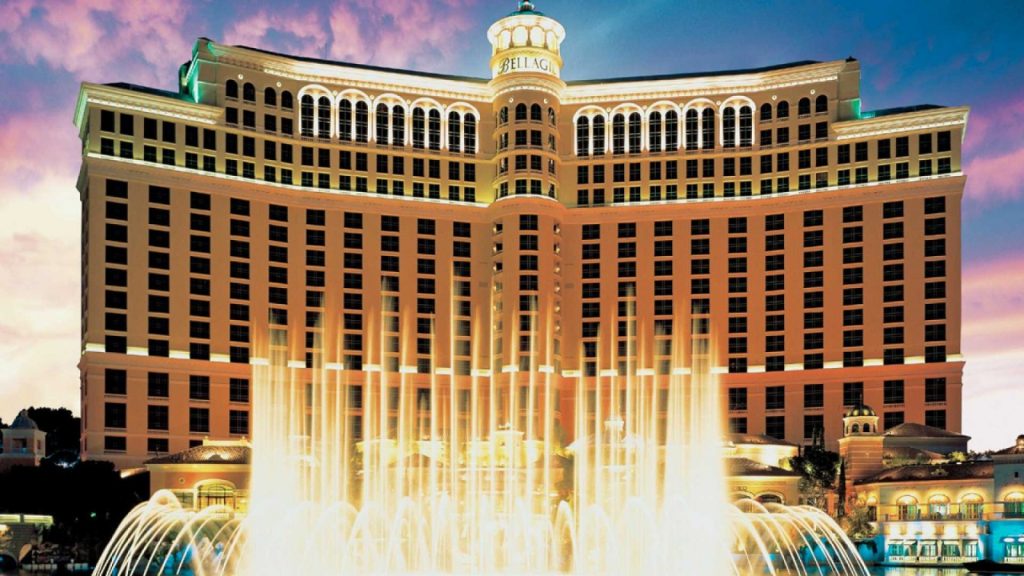 A fun activity is the Fountains of Bellagio daily show in front of the Bellagio Hotel. The water cascades and dances about as it's set to choreographed music. Songs include Fly Me To the Moon, Singin' in the Rain, Viva Las Vegas and more (click the link for the full music line-up). Covering a host of different genres, it's entertaining for all age groups.
Address: 3600 Las Vegas Boulevard South.
Show Times: If you visit during the day, the shows run every 30-minutes. At night they run in 15-minute intervals.
Tip: If you're looking for a cool setting to watch the water show, head to HYDE Nightclub. With both indoor and outdoor seating, you can enjoy the water show (especially after 5 pm when the sun goes down).
Price: Free.
Have you heard about the Fremont Street Experience (FSE)? Or the Fremont Street light show? The light show runs nightly in the downtown walkthrough on Fremont Street. About 22 million people check out the light show every year.
Light show times: The light show starts at 6:00 pm and runs on the hour every hour and it's only 6-minutes long. Why is it so short? Because you'll be staring up to look up at the lights (so you won't strain your neck).
Price: Free.
Want to rate a new show? If you head to the MGM Hotel near the Lion Habitat and CSI Experience, you can get tickets to the CBS Television City Research Center. Once you get your tickets, you'll sit through a new pilot for a TV show and give your opinion. The only downside is you won't know what you're going to see.
Once the show is over, you can rate the show by using a touchpad to vote thumbs-up or down. On occasion, they will pay up to $20 for your opinion. You can also leave your feedback for the executives.
Address: 3799 Las Vegas Boulevard South. Hours: 10:00 am to 8:30 pm daily.
Price: Free.
This unique art exhibit is 7 colorfully painted boulders located on South Las Vegas Boulevard. Created by Ugo Rondinone, a Swiss artist, his artwork showcases all that is natural and artificial. The artwork installation has been up since 2016. Due to its overwhelming appeal, its set to stay up until 2021.
Address: Drive 7 miles south on Las Vegas Boulevard. The artwork is on the left.
Price: Free.
Tip: Capture the 7 boulders in one picture. Then walk around them to capture them closer together from different angles.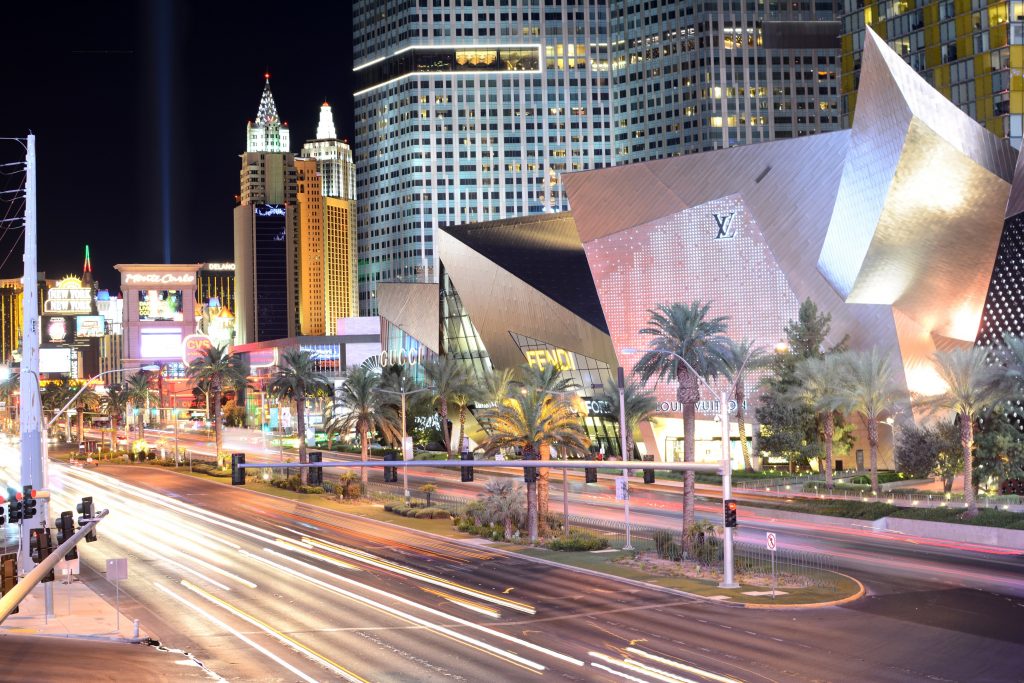 A free tour and still one of the best is to walk along the Strip at night in Las Vegas. This is a favorite activity for tourists because the hotel lights are lit up and you can see hotel headliners and local attractions. You might even see a celebrity or two (but don't be surprised if they're impersonators!). Walk the Strip at night when the sun goes down as it's a lot cooler and also more pleasant for walking. The distance is 4.2 miles and there are several footbridges in this pedestrian-friendly area. Bring your camera as you'll definitely get a lot of great pictures and video, too!
Price: Free.
Tip: Stay on the well lit main streets and avoid side streets and alleys as they are not well lit and can be dangerous.
Activities (Paid)
Heard about the gondola rides in Las Vegas? Want to zipline Las Vegas style or go dancing? Here are a few activities you might enjoy. Note: The Zipline rides may not be for those that don't like heights or have heart conditions.
Ready to hit the club scene in Las Vegas? There are several clubs all over the Las Vegas Strip.
A few dance club locations include:
Prices: Vary.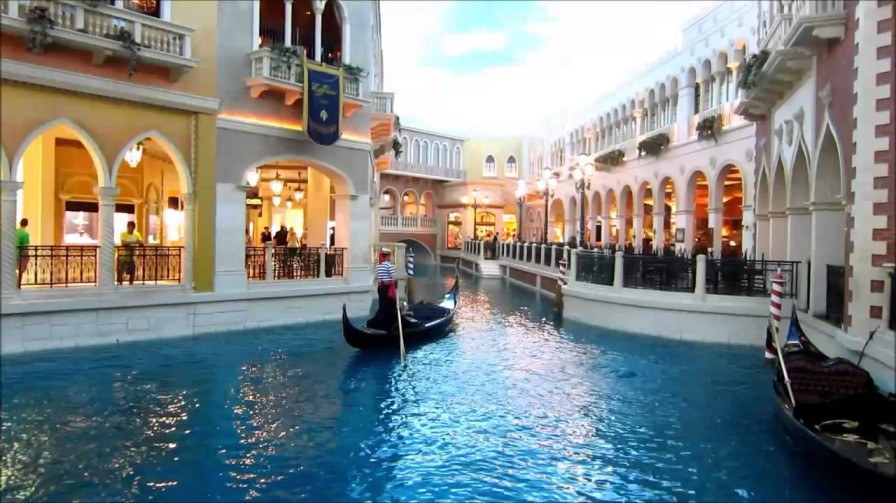 If you don't have time to visit Venice, Italy, that's okay. A relaxing way to unwind in Las Vegas is on a canal tour by gondola (small boat). With a singing gondolier, you'll guide through the Grand Canal, go under balconies and alongside cafes as if you were in Venice. With a true Venetian streetscape that resembles Italian architecture and the backstreets of Venice, it's a fun escape and very romantic. Now, that's amore!
Address: 3355 Las Vegas Boulevard South.
Price: $29 per person. $116 for private gondola for two. Photo packages: Start at $22. The ticket booth opens indoors at 9:30 am and outdoors at 10:00 am. Hours: Indoor ride times: 10:00 am to 11:00 pm. Outdoor ride times: 11:00 am to 9:45 pm.
Tip: An outdoor ride providers you with an open-air experience and you can view the Las Vegas Strip!
Las Vegas is known for its stunning headliner shows. There is also something for everyone. From oldies and goodies to blues and funk or eclectic music. There are also musicians and ventriloquists and all kinds of dance music performances.
If you're visiting with friends and family, see a concert one night and a performance or comedic show the next.
Show ideas might include:
Concerts: These might include Cher, Diana Ross, Reba, Brooks & Dunn or a variety of other concerts available daily.
Performances: You might enjoy the Blue Man Group or a variety of Cirque du Soleil shows including: Beatles Love, Michael Jackson One, and O.
Comedies: These might include Ron White, Jerry Seinfeld or George Lopez.
Tips: Avoid ticket scalpers. Check with the concierge or the front desk at your hotel. Another way to find tickets is to check out the free shows at Treasure Island or Circus Circus Hotel.
Prices: Vary.
Want the best way to see all of Las Vegas? On the Las Vegas Observation Wheel, the High Roller at the LINQ Hotel. The High Roller Ferris Wheel stands 550-feet high and is 520-feet wide. It's the tallest Ferris wheel in the world. Rides can take about 30-minutes and depending on the time of day, you'll see awesome skyline views of Las Vegas, so bring your camera.
Address: 3545 South Las Vegas Boulevard.
Prices: Booked online: $22 for day tickets, $32 at night.
Tip: Plan to take the Ferris Wheel ride as the sun sets if you want a romantic way to pop the question. Where will you get married? Vegas, Baby!
For a bit of nostalgia, head to the outdoor Neon Museum for a few larger than life exhibits. With about 150 neon signs from the 1930s through the present era, these range from old business signs to casino signage. They each play a part in the history of Las Vegas and have their own story to tell. The museum is set on 2.25 acres and has over 200 signs, 11 of which have been fully restored. Bring your camera for these larger than life neon signs.
Address: 770 Las Vegas Boulevard North.
Tip: Stop in on your own or sign up for a guided walking tour.
Prices: $22 per person. Hours: 9:00 am to 7:00 pm. Guided tours: $28 per person.
Calling all thrill-seekers! If you don't mind the heights, head up to the Stratosphere Observation Tower. It stands at 1,149-feet tall and is the tallest observation tower in the United States. Visit by day and night for pristine skyline views. The experiences are quite different by day as you see the desert and mountains in the backdrop. At night, all of Las Vegas is lit up. Set your camera to panoramic view to capture a 360-image.
While you're up at the Tower, a fun ride is the Big Shot that catapults 16 riders from the 921 foot platform to the Tower's mast to a height of 1,081 feet. The Big Shot will let you experience 4 'G's of force that makes you float out of your seat, but don't worry you are secured with seat belts. After the 4 'G's force on the way up, you will feel negative 'G's on your way down to the platform. Another ride you don't want to miss on the Tower is the Stratosphere X Scream ride that takes you over the edge and dangles you weightlessly above the Las Vegas Strip.
Address: 2000 Las Vegas Boulevard South.
Tip: Plan extra time to enjoy the best views of the city from either the indoor or outdoor observation decks before going on either the Big Shot or X-Scream ride as lines can be quite long.
Prices: Tower admission + 1 ride: $25, ($30 on weekends). Tower + 2 rides: $30, tower + 3 rides: $35.
Want to get away from the bright lights and crowds of Las Vegas? A can't miss tour is the Grand Canyon. Nearly 5.5 million people visit the Grand Canyon every year and it's only about 5-hours from Las Vegas. So, plan on getting up pretty early to view the canyon before the sun goes down or, plan to stay overnight at a lodge. The Grand Canyon is 277 river miles long and about 18 miles wide. As one of the world's most beautiful natural features in the world, seeing it in pictures doesn't do it justice.
Check with your hotel for available tours and pricing. There are several types of bus tours. Some tours include meals and tour guides. Select shuttle buses travel from Las Vegas to the Grand Canyon for $45. Looking for a cheap way to explore the Grand Canyon, once you arrive? There are free shuttle buses to get around. Or, if you want the VIP service, hire a private car and helicopter.
A few tours include:
Prices: Vary.
Feel the need for speed? For car enthusiasts, hopping behind a supercar is now possible. You can race in a Nascar race car, Ferrari, Porsche, Lamborghini or Aston Martin. All you have to do is pay the fee, gas up and go! The racetrack is a fun experience for all age groups. Don't miss the 3D race car simulator if you want to keep your feet on the tarmac.
Race experiences include:
Dream Racing: Get 5-laps in a Lamborghini for $599 or 5-laps in a Ferrari for $399.
Exotic Racing: Hop in a Corvette Z06 or Slide into a Mercedes-AMG GT S.
Nascar Racing Experiences: Drive a NASCAR race car for $399.99 or go for a ride along for $99.
Mario Andretti Racing: Hop in an Indy style race car. Ride alongs pay $99. Or, get behind the wheel for $799 with 16-minutes of track time. Or, get 40-minutes for $1,799.
Police Chase Las Vegas: Take a "joy ride" and avoid getting pulled over by cops. It's the one place where the "chase sequence is allowed". 5-laps are priced at $199.99.
Other fun activities include track tours and go-kart rides.
Address: 7000 Las Vegas Boulevard North.
Want to take a zip line ride Las Vegas style? Up for an adrenaline rush? A must-try if you're making your bucket list is the SlotZilla Zip Line ride on Fremont Street. Fremont Street can be packed with tourists, but not when you're on a Zipline. The rides travel both indoors and outdoors and go pretty fast, but if you're a thrill seeker, it's quite enjoyable.
There are two zip line rides:
The Zipline: It's 7 stories high (lower levels) and you're seated for a 2 block-long ride. The price is $25 per ride.
The Zoomline: It's 11-stories high (higher levels) and you're horizontal (like Superman) for 5 blocks. The price is $45 per ride.
Address: 425 Fremont Street.
Tip: Schedule your Zipline or Zoomline time before 5:00 pm and get $5 off.
Golf
If you're in Las Vegas and don't want to play in the casinos, play on a course instead. Golfers have year round access to a variety of courses. Come visit Chimera Golf Course, we are a 20 minute drive from the Las Vegas Strip.
Aside from golf, other fun activities at Chimera Golf Course include:
Have you played footgolf yet? Or, tried golfing by golfboard? Chimera Golf Course offers several fun ways to enjoy golf with friends, family or work colleagues. Golfboards are a cool and convenient way to zip around the golf course. The golfer stands on the golfboard and it travels from 6 to 12 mph. Golfboards can add fun to your golf game as you don't have to walk and you don't need a golf cart. There's even a place to store your clubs on the golf board.
Another way to hit the course is with footgolf. It's a combination of soccer and golf played on a golf course. After a long day playing either sport, stop at Slice 19 for a bite to eat!
Address: 901 Olivia Parkway, Henderson, Nevada.
Prices: Vary.
About Chimera Golf Course: Visit the picturesque Chimera Golf Course located in Henderson, Nevada. The course was designed by Ted Robinson, Jr. back in 2003 and it sits on 6,906 yards. Forgiving fairways in a playable desert landscape await you and you can find challenges from any tee. Players can also try Footgolf or Surfing the Earth on a Golfboard and then get something to eat at Slice 19. With pristine views of the Las Vegas Strip and the mountains in the backdrop, book your next tee time at Chimera Golf Club today!