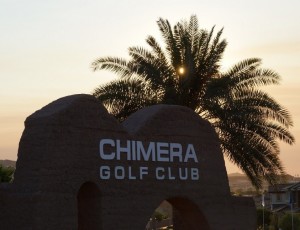 One of Southern Nevada's most popular golf courses, Tuscany Golf Club, has been purchased and renamed Chimera Golf Club at Tuscany. The course was purchased by entrepreneur Thomas Burke, CEO/Owner of TCompanies, Inc. He recently relocated from Minneapolis, Minnesota to Henderson, Nevada (saying he "finally got tired of the cold").
Favorited by locals since 2003, the course is known for its generous fairways, but in no way is it a pushover. Good shots are rewarded, poor shots have a chance of staying in play and wild shots receive their just desserts. One of the better kept courses in the Las Vegas Valley, locals consider it a great value worth playing again and again. Just twenty minutes from the Las Vegas Strip it is often recommended by casinos as the place to play for their guests.
Chimera pronounced "ki-meer-uh" is a mythological, fire breathing monster with the body and head of a lion, a goat head on its back and a serpent for a tail.
As good as Tuscany Golf Course was, Chimera Golf Club will be even better. The following improvements are planned or already in place to make a guest's experience even better.
Time between groups teeing off has been increased to nine minutes improving pace of play.
GPS digital caddies have been added to the golf carts.
An unlimited range special is offered for $99.00 until the beginning of over-seed.
Two fourteen foot high by forty foot wide water fountains have been added in the lakes by holes 1 and 18 giving viewers a refreshing cascade of water.
Chimera Bar and Grill is being redecorated and receiving new furniture.
After over-seed the Chimera Café will serve hand-crafted treats.
Golfers and residents of the Tuscany and nearby Cadence communities will enjoy gourmet coffee beverages from the new Synesso Espresso machine. Soon call ahead service will be in place for commuters.
There are new breakfast and lunch menus from Chef Robert. A new dinner menu will be revealed after over-seed at which time the restaurant's hours will be extended.
Happy hour is daily at the bar and grill with appetizer and drink specials from 3:00 pm to 5:00 pm.
A Beer Growler Program featuring a rotating beer selection is now available for residents and players.
The Pro Shop has been restocked with all new Chimera logo apparel.
TaylorMade products are now in the golf shop. Also available are TaylorMade custom fittings through Chimera.
Soon there will be a Chimera sculpture placed on the first tee to serve as the course mascot and offer players photo opportunities. Ramon Sanchez of P & S Metals, known for his three dimensional animals on the I-15, has been commissioned for the sculpture.
Golfers, both local and visitors to Southern Nevada, who have played the course and enjoyed the amenities in the past are going to be amazed on their next visit to Chimera. What was good before will now be great. In the words of owner Tom Burke:
"A simple promise to deliver you an amazing experience at a fair price that will allow us to maintain this amazing oasis in the valley to a standard above expected"